Our Take: UPMC, AstraZeneca launch value-based contract for Brilinta
Feb 04, 2019
UPMC Health Plan and AstraZeneca announced the start of a value-based agreement for Brilinta (ticagrelor), a drug used to reduce the rate of cardiovascular death, myocardial infarction and stroke in patients with acute coronary syndrome or a history of myocardial infarction. In a press release, the companies said reimbursement for the drug will be tied to cardiovascular outcomes for people treated with Brilinta following a recent hospitalization for myocardial infarction or unstable angina.
The agreement is limited to members of UPMC's Medicare Advantage plan, UPMC for Life.
"We believe this value-based contract is unique and will fundamentally change the strategies for future contracts," said Dr. Chester "Bernie" Good, senior medical director for the Center for Value-Based Pharmacy Initiatives, a nonprofit research group within UPMC's insurance services division. "The ultimate winner in this agreement is our members, who stand to have greater access to an effective treatment option."
Our Take
: 
As the number of value-based pharma contracts continues to grow, this one stood out for two very important reasons.
First, it's a rare two-sided risk agreement. That means if the drug overperforms, UPMC's discount is lower; if it underperforms, UPMC's discount is higher. The last two-sided agreement we saw was with Harvard Pilgrim, which in 2016 teamed up with Eli Lilly for Trulicity (dulaglutide), a treatment for diabetes.
Second, AstraZeneca is offering generic-level pricing for Brilinta. FiercePharma reported that plan members would pay between $7 and $10 per month under the deal, saving them hundreds of dollars a year.
We started tracking value-based pharmaceutical contracting in 2015, which began initially as a consulting project for a client. Since then, we have continued to monitor publicly available reports on contracting activity.
We know from our industry relationships that there are far more performance and outcomes-based contracts in place today than are made public. For whatever reason, many of these agreements remain confidential. Merck, for example, said in 2017 that it had 10 value-based agreements in place. At that time, Merck's only publicly known value-based contract was for Januvia/Janumet (sitagliptin/sitagliptin and metformin). To our knowledge, it remains the only one that Merck has made public.
Still, value-based contracts are the exception, not the norm. In 2017, Pfizer's then-CEO, Ian Read, noted his frustration with value-based contracting at a policy forum in Washington, D.C.
"We've been struggling to do value-based contracting with payers and providers," he said. "We have about 18 different projects underway, but we've achieved [only] one."
One major complaint we hear from our clients is that the cost of administering value-based contracts is more than it is worth. It takes time to set up a program and monitor patient populations over time—and some payers aren't willing to do that.
Also at issue is patient compliance. If payment is tied to outcomes but the payer or pharmacy benefit manager doesn't ensure that patients are receiving and taking their medication, outcomes will be worse. But medication adherence is outside of the manufacturer's control. This is why some value-based contracts include an adherence threshold.
Regardless of the pitfalls, drugmakers see the benefits of value-based contracts, which can include increased access, better formulary positioning, appropriate use of their products and better adherence. Payers benefit from lower costs and, potentially, improved health outcomes.
And in this case, patients win, too, with substantially reduced out-of-pocket costs.
Of note, Sens. Bill Cassidy, R-La., and Mark Warner, D-Va., last week began drafting legislation to promote value-based arrangements for pharmaceuticals by amending parts of the Social Security Act. The bill, known as the Patient Affordability, Value and Efficiency Act, is under review and awaiting comments before it is brought to the Senate floor.
Note: We have compiled a brief report on value-based pharmaceutical contracting that Our Take readers can download here, o
r by clicking on the image below.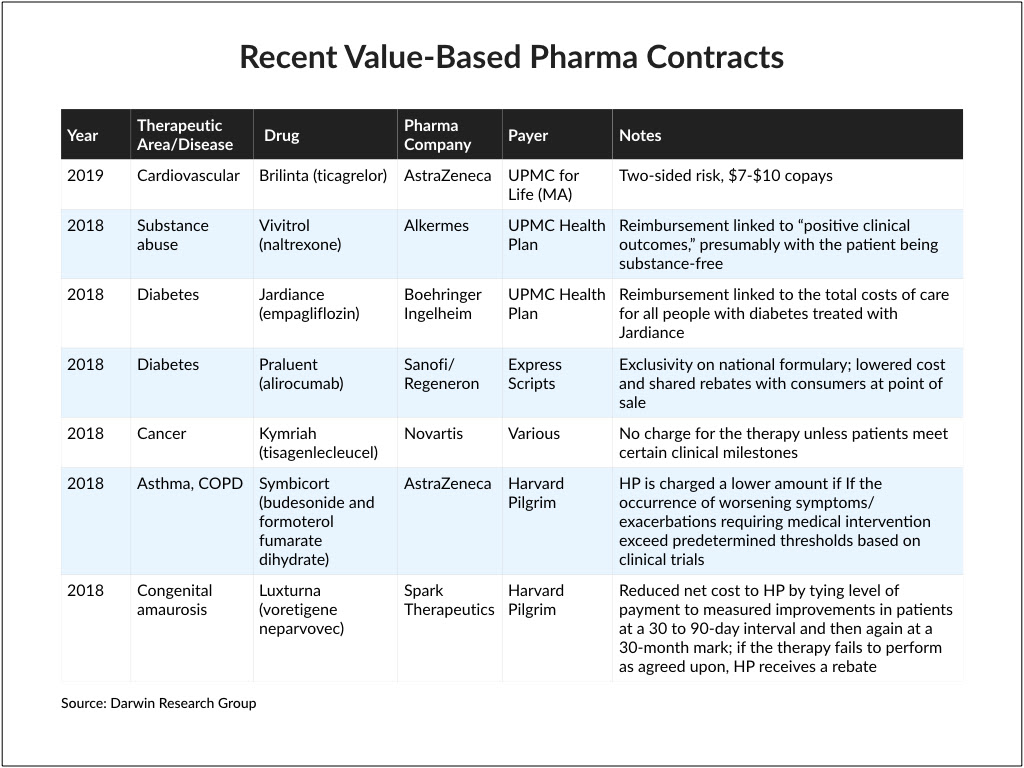 What else you need to know
The Trump administration has proposed the elimination of rebates
 that pharmacy benefit managers (PBMs) earn from manufacturers, and instead allow safe harbor for fixed-fee services arrangements between drugmakers and PBMs. The proposed rule also allows for discounts to be offered directly to patients. According to a statement from Health and Human Services Secretary Alex Azar and Inspector General Daniel Levinson, the proposal "would expressly exclude from safe harbor protection under the Anti-Kickback Statute rebates on prescription drugs paid by manufacturers to PBMs, Part D plans and Medicaid managed care organizations." Secretary Azar said the move would bring greater transparency to drug pricing, as well as savings to patients.
In response, America's Health Insurance Pla
ns said the proposal was "well-intentioned but misguided" and would "dramatically weaken the ability of health insurance providers and their PBM partners to negotiate lower drug prices for patients." The Pharmaceutical Research and Manufacturers of America (PhRMA), a trade organization for the pharmaceutical industry, came out in favor o
f the proposed rule. "We applaud the Administration for taking steps to reform the rebate system to lower patients' out-of-pocket costs," said PhRMA president and CEO Stephen J. Ubi. "This proposal would also help to fix the misaligned incentives in the system that currently result in insurers and PBMs favoring medicines with high list prices." M
ore here. 
Anthem is set to launch IngenioRx,
 its in-house pharmacy benefit manager, much earlier than expected. In Anthem's Q4 and full-year 2018 statement of results, CEO Gail Boudreaux said the company had been preparing for an accelerated launch and would be transitioning customers in the second quarter. Anthem also notified Express Scripts that it would be terminating its agreement early, "due to the recent acquisition of Express Scripts by Cigna Corp." Anthem previously intended to end its relationship with Express Scripts at the end of this year, with an anticipated launch of IngenioRx on Jan. 1, 2020. M
ore here.
Partners Healthcare CEO Dr. David Torchiana announced his resignation
to the company's board of directors last week, The Boston Globe reported. Citing a source requesting anonymity, one source told the Globe that the abrupt departure may have stemmed from growing tension between Dr. Torchiana and hospital leadership. Partners' board chair, Scott Sperling, released a statement about Dr. Torchiana's departure to Partners employees, rejecting that idea, noting that Dr. Torchiana had been contemplating retirement for some time. "Torch has been a valued leader, and he has led this organization in a thoughtful and effective manner," Sperling wrote. Read the stateme
nt here.
Harvard Pilgrim Health Care entered into a multiyear agreement
 with OptumRx, in which OptumRx will provide PBM services to Harvard Pilgrim members, beginning in 2020. In a joint statement, the companies said the agreement broadens a long-term strategic relationship between Harvard Pilgrim and Optum, including several program partnerships such as Optum Behavioral Health. For the rest of this year, Harvard Pilgrim members will continue to receive services from MedImpact, the company's current PBM. Mo
re here.
Dignity Health and Catholic Health Initiatives have completed
 their merger, launching Friday as CommonSpirit Health. With its new headquarters in Chicago, the combined system includes 142 hospitals and 700 sites of care, with 150,000 employees and 25,000 physicians and advanced practice clinicians. In FY 2018, Catholic Health Initiatives and Dignity Health had combined revenue of $29.2 billion, making
CommonSpirit the largest nonprofit health system in the nation. More here.
Contact Darwin Research Group and we will get right back to you.