Our Take: Uninsured rate reaches highest point since 2014
Jan 28, 2019
The number of adults without health insurance continues to climb, reaching a four-year high in Q4 2018. According to Gallup, which tracks the number of uninsured through polling, 13.7 percent of Americans were uninsured at the end of the year, compared with 12.2 percent in Q4 2017 and 10.9 percent in Q4 2016. This translates to about 7 million uninsured adults, Gallup noted.
Today's level of uninsured Americans is the highest in four years.
The Gallup National Health and Well-Being Index randomly samples about 28,000 U.S. adult residents per quarter.
Our Take
:
Dive a little deeper into the data and you'll find that increases in the uninsured were seen in every demographic, but the highest declines in coverage were among women, younger people (ages 18-34) and households with less than $48,000 in annual income.
There's no doubt that higher premium prices in recent years drove people away from the health care exchanges. But the real culprit is congressional Republicans, who have been chipping away at the Affordable Care Act for years. We've written about these efforts ad nauseam and won't repeat them here. If you're interested, you can find our latest chronicling of event
s here and in our 2018 year-end review here.
Gallup, in fact, points to reduced open enrollment periods, a reduction in public marketing and substantially decreased funding for ACA "navigators" as contributing factors to declining ACA enrollment. Gallup also mentioned "political forces," especially the individual mandate repeal, as contributing factors.
A quick look at the chart below reveals that the latest bump came after the GOP tax bill, passed in December 2017, eliminated enforcement of the individual mandate — not that the mandate ever had much teeth, but still.
Bucking against the trend are the new Medicaid expansion states. In November 2018, three states — Nebraska, Idaho and Utah — passed ballot measures for Medicaid expansion, which should provide insurance to 300,000 lower-income people. Medicaid expansion in Maine will add an estimated 70,000 adults to the program.
And with new Democratic governors in Wisconsin and Kansas, another 250,000 people would gain coverage, should those states expand Medicaid eligibility. Govs
. Tony Evers and Laura Kelly have al
ready made commitments to do so.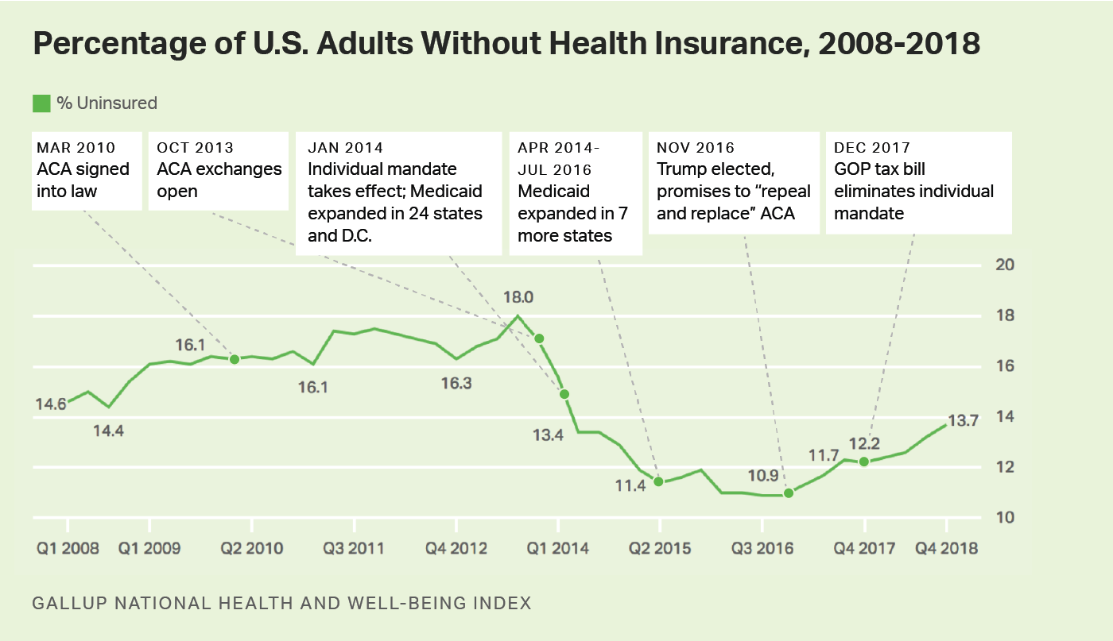 What else you need to know
UnitedHealth Group's health care services unit, Optum Inc., is suing
one of its former executives, David Smith, in an effort to protect its trade secrets. Smith left Optum in December 2018 for the new health care venture formed by Amazon, Berkshire Hathaway and J.P. Morgan, referred to as "ABC" in court documents. The lawsuit, filed in a Massachusetts District Court, attempts to prevent Smith from using confidential information he obtained while working at Optum. Subsequent court documents filed by Smith's attorneys note that "the problems with Optum's trade secret misappropriation claim are myriad," including that "Optum fails to identify the actual trade secrets that Smith allegedly misappropriated."
Yet, in the suit, Optum claims that Smith printed confidential information a day before he announced his resignation, and that he had attended "an all-day, cross-team strategy meeting at which he gained access to Optum's highly confidential competitive information" on the same day he received a verbal offer from ABC. A hearing is scheduled for Jan. 29. Read Optum's allegatio
ns here and Smith's response here.
IBM announced a collaborative effort to build a blockchain-based
ecosystem for the health care industry. Other partners include Aetna, Anthem, Health Care Service Corp. and PNC Bank. The goal, according to a statement, is to "improve transparency and interoperability" and to promote "efficient claims and payment processing, to enable secure and frictionless health care information exchanges and to maintain current and accurate provider directories." The collaboration is expected to grow in the coming months to include other health care organizations, providers and technology companies. "Blockchain's unique attributes make it suitable for large networks of members to quickly exchange sensitive data in a permissioned, controlled and transparent way," said Lori Steele, general manager for Healthcare and Life Sciences for IB
M. More here.
Walgreens Boots Alliance (WBA) settled two health care lawsuits
with the Department of Justice for a total of $269.2 million. In the first settlement, WBA agreed to pay $209.2 million to resolve allegations that it knowingly dispensed hundreds of thousands of insulin pens to beneficiaries of Medicare, Medicaid and other federal health care programs who did not need the pens. In the second, WBA agreed to pay $60 million to settle allegations that it overbilled Medicaid by failing to disclose to and charge Medicaid the lower drug prices that Walgreens offered the public through a discount program. WBA also entered into a Corporate Integrity Agreement with HHS-OIG as part of the settlement.
More here.
Dartmouth-Hitchcock Health and GraniteOne Health signed
a non-binding letter of intent (LOI) to merge. The combined system would include six hospitals and 945 beds. In a press release, the health systems said the LOI is the first step in a process that involves further due diligence, opportunities for public input, negotiation of final terms, approval by each organization's board of trustees and the Bishop of Manchester, and review by federal and state regulators. Mor
e here.
Executive developments
Ascension is eliminating three executive positions
in an effort to eliminate silos and streamline operations. Ascension President and CEO Anthony Tersigni said John Doyle, president and CEO of Ascension Holdings, and Dr. David Pryor, Ascension's chief clinical officer, will retire on June 30. Patricia Maryland, CEO of Ascension Healthcare, will also leave on June 30. Joseph Impicciche, Ascension's general counsel, will serve in the newly created role of Ascension president and chief operating officer, effective July 1.
Temple University Health System President and CEO Dr. Larry Kaiser
reported that the system's chief medical officer, Dr. Susan Freeman, and its chief administrative officer, Alan Rosenberg, are leaving the organization and that their positions will be eliminated. Temple University Hospital CEO Dr. Verdi DiSesa and the hospital's chief medical officer are also stepping down from their positions. Michael Young, currently the hospital's chief operating officer, is taking over as CEO. The health system is working with a chief restructuring officer to improve its financial sustainability.
Dr. Allen Weiss, president and CEO of Naples, Fla.-based NCH Healthcare
System, resigned Wednesday after a unanimous vote of no confidence by NCH physicians a week earlier. The vote stemmed from a recent and controversial admissions policy Weiss initiated that did not allow prescriptions to be written by physicians outside of the hospital, as well as an earlier policy that eliminated admission privileges for independent physicians at NCH. Chief of Staff Kevin Cooper also resigned. NCH's chief operating officer, Phil Dutcher, has been named interim CEO while the health system conducts a national search for Weiss' replacement.
Alexander Hardy has been named Genentech's new CEO,
succeeding Bill Anderson. Hardy is currently the head of global product strategy for Genentech's parent company, Roche Pharmaceuticals. He will step into the CEO role on March 1. Anderson, who has been Genentech's CEO since January 2017, is leaving to take the top spot at Roche.
More here.
Contact Darwin Research Group and we will get right back to you.