Our Take: NYU takes gutsy step, offers free tuition for medical students
Aug 20, 2018
The New York University School of Medicine announced that it is now offering free tuition for medical students, becoming the first major medical school in the U.S. to offer tuition-free education.
"Our full-tuition scholarships make it possible for aspiring physicians to choose a specialty based on their talent and inclinations to better serve the communities who need it most, and to more easily pursue scientific break
throughs that improve how we care for patients," the school posted on
the homepage of its website.
Robert Grossman, dean of NYU School of Medicine and CEO of NYU Langone Health, said in a statement: "This decision recognizes a moral imperative that must be addressed, as institutions place an increasing debt burden on young people who aspire to become physicians."
Our Take
:
What a bold move. NYU consistently ranks at the top of the nation's best medical schools, making the announcement even more stunning. It's not as if the school was having a hard time attracting talented students.
Moreover, NYU's medical school will offer free tuition in perpetuity. Every incoming student will have tuition covered, and those who are already in the program will have their tuition waived. Prior to the announcement, tuition at the school was about $55,000 per year.
The scholarship program was made possible through a fundraising effort that so far totals $450 million, with support from big donors like Home Depot founder Kenneth Langone and his wife, Elaine, The Wall Street Journal reported.
According to the Association of American Medical Colleges, the average medical student finishes school with about $200,000 in debt. The incentive, then, for many students is to seek the highest-paying specialties or go to work for a health system that will pay off their student loans.
Our question is: Will other schools follow suit? Harvard has a $35.6 billion endowment. Yale? $25.4 billion. Stanford? $22.4 billion.
It isn't a question of if other institutions will follow NYU's example. It's a matter of when. NYU won't be alone on an island for long.
NYU has taken the first step by a medical school to directly tackle health care costs from an entirely different perspective: making the education of our next generation of doctors affordable. The school's leaders are to be commended.
What else you need to know
Alphabet Inc., the parent company of Google, will invest $375 million
in nascent health insurer Oscar Health. The investment will help Oscar expand into Medicare Advantage in 2020, and to continue diversifying its portfolio of offerings. Alphabet was part of an earlier round of Oscar financing; following the recent investment, Alphabet will own about 10 percent of Oscar Health. The announcement came during a Wired interview with Oscar Health CEO Mario Schlosser. Access the interview
here.
Best Buy announced that it will acquire GreatCall, the teleservices firm best known for its Jitterbug phone marketed to seniors, for $800 million in cash. GreatCall has a range of services, including emergency response services for seniors with mobile, connected devices. GreatCall has more than 900,000 paying subscribers and $300 million in annual revenue. "We have a great opportunity to serve the needs of these customers by combining GreatCall's expertise with Best Buy's unique merchandising, marketing, sales and services capabilities," said David Inns, CEO of GreatCall.
Four California health systems have launched a health plan with Aetna. The plan, called Aetna Whole Health – Southern California, includes access to providers from Sharp HealthCare, MemorialCare, PrimeCare Physicians Plans and Providence St. Joseph Health. According to Aetna, members will have access to approximately 1,400 primary care doctors, 8,300 specialists, 51 hospitals and 122 urgent care facilities across five counties. More here.
Geisinger and Merck are launching two web-based apps
designed to improve medication adherence and care coordination. Geisinger said the applications are embedded within the electronic medical record and in the provider's workflow to optimize the use of clinical and patient-reported data during patient appointments. "Providing these tools for patients and family caregivers … enables patients to be more active in health care decisions and could increase the likelihood that patients will adhere to their treatment pla
ns and lead healthier lives," said Geisinger's executive vice president and chief scientific officer, David Ledbetter. More here.
Adventist Health announced a rebranding initiative—the culmination of an eight-month process. As of Jan. 2, 2019, the Altamonte Springs, Fla.-based health system and its wholly owned entities will be known as AdventHealth. "With the name change, the health system will move to being one consumer-centric, connected and identifiable national system of care for every stage of life and health," the company said in a press statement. More here.
By the numbers
According to a rece
nt analysis publis
hed in Health Affairs, nearly one-third of prescription drug spending goes to pharmacies, health care providers and pharmacy benefit managers. The authors noted that for a long time the pharmaceutical industry (and more recently President Donald Trump) has lamented that "supply chain intermediaries, or 'middlemen,' are capturing much of the money that is often categorized as drug spending."
The analysis by Nancy Yu and colleagues indicates that in 2016, $323 billion, or about two-thirds of spending, went to drug manufacturers' net revenues.
"A clearer understanding of the total market size, as well as the revenues retained from the purchase, distribution and payment of prescription drugs throughout the U.S. supply chain, may be useful for policymakers as they seek reforms while working to preserve incentives for innovation and efficiency," the authors wrote.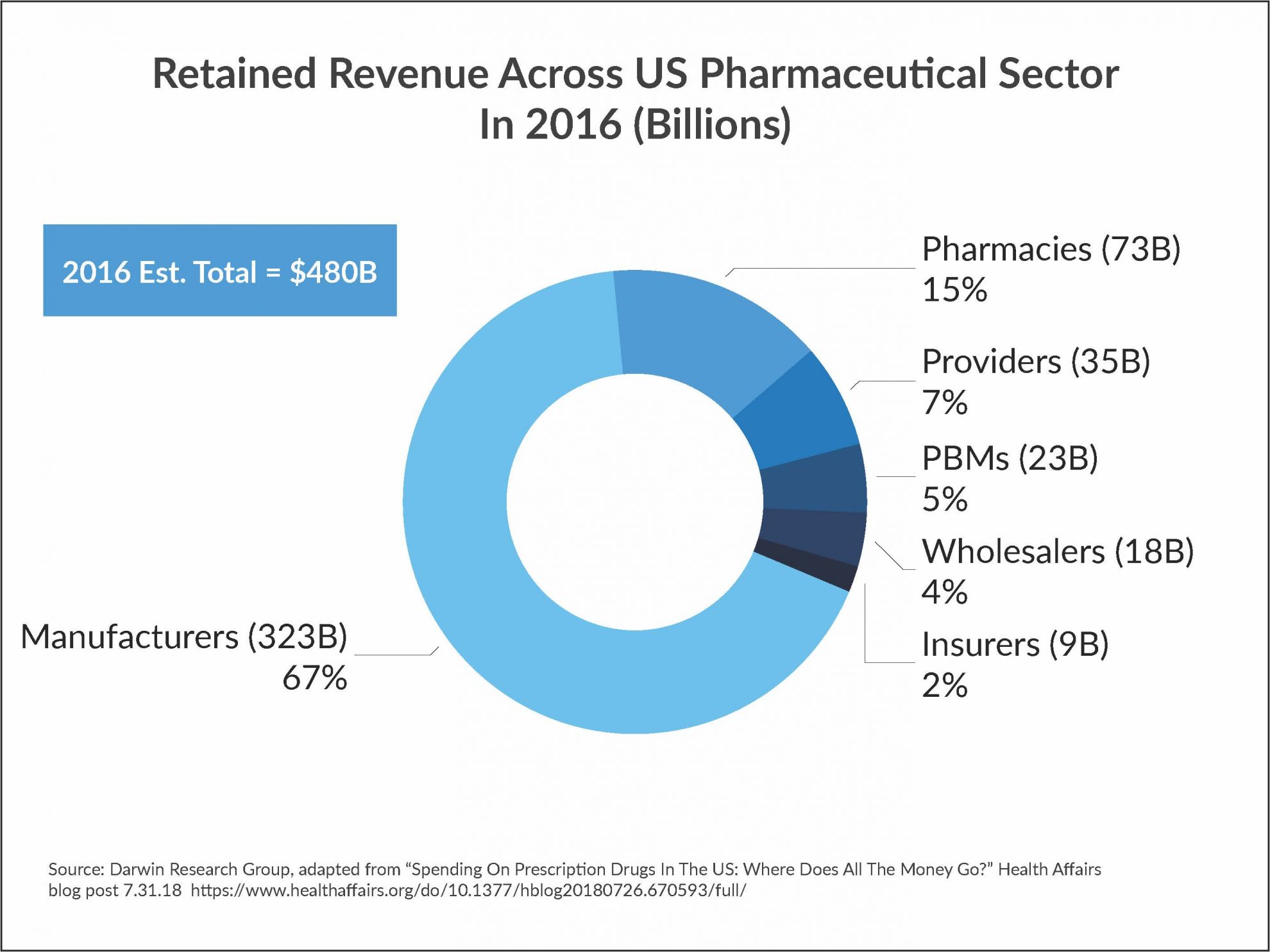 Contact Darwin Research Group and we will get right back to you.