Our Take: Merck, Ridgeback report early data indicating molnupiravir's promise as potential COVID-19 treatment
Mar 15, 2021
Molnupiravir, an investigational oral antiviral drug, appears to eliminate infectious SARS-CoV-2 in symptomatic individuals within five days of initiating treatment, according to preliminary results from a randomized, placebo-controlled, Phase IIa trial reported by Merck and its partner on the drug, Miami-based Ridgeback Biotherapeutics.
The U.S. study was conducted to evaluate the drug's efficacy and safety in non-hospitalized adults with confirmed, active infection. The reported findings are for one of the trial's secondary objectives and are based on labs from 78 of the trial's 202 participants. Those 78 had an evaluable nasopharyngeal swab and showed detectable levels of cultured virus at baseline.
The trial included three active treatment arms — 200 mg, 400 mg, and 800 mg of molnupiravir — and a placebo arm. The participants received treatment twice daily for five days and were monitored for 28 days.
At day 3, 28% of those in the placebo group and 20.4% of those in the combined active treatment groups had infectious virus in their nasopharynx. By day 5, none of the participants who received molnupiravir had evidence of infectious virus in their nasopharynx, whereas 24% of those in the placebo group still did.
No safety signals were identified during the trial, and Merck and Ridgeback said none of the four serious adverse events reported were deemed related to the study drug.
These findings were presented by Dr. Wendy Painter, chief medical officer at Ridgeback Biotherapeutics, at the 2021 Conference on Retroviruses and Opportunistic Infections. Merck and Ridgeback noted in their press release that additional results from the trial would be presented at a future medical conference, and that other Phase II and Phase II/III studies of molnupiravir are underway.
Our Take: We wouldn't normally report on preliminary findings from an early-stage study like this, but we've been following this drug for a while now.
Ridgeback licensed molnupiravir from Emory University a year ago and then sold the license to Merck two months later. The transactions weren't particularly noteworthy at the time, but soon after that the drug became a focal point of Rick Bright's whistleblower complaint. Bright was the director of the federal government's Biomedical Advanced Research and Development Authority (BARDA) until last April, when he was reassigned to the National Institutes of Health. His supervisor was Dr. Robert Kadlec, who was appointed Assistant Secretary for Preparedness and Response in 2017 and was later tasked with coordinating the Department of Health and Human Services' coronavirus response.
In November 2019, Bright and Dr. Kadlec met with George Painter, who holds patents related to molnupiravir. Painter heads the Emory Institute for Drug Development and is CEO of Drug Innovation Ventures at Emory (DRIVE), a not-for-profit company owned by Emory University. At the time, Emory had already received pledges of $30 million from the National Institute of Allergy and Infectious Diseases (NIAID) and the Department of Defense to develop molnupiravir as a treatment for influenza and other viruses; according to multiple sources, Emory only spent about half of the federal funding. The drug had not yet been evaluated in human trials.
Bright said Painter touted molnupiravir as a "cure all" for the flu, Ebola, and other viruses at the meeting and asked that BARDA invest additional millions of dollars in the drug. Bright said he told Painter that Emory should conduct safety trials first. In February 2020, Painter again sought BARDA funding for the drug, but this time as a treatment for COVID-19.
On March 19, 2020, Ridgeback Biotherapeutics signed an agreement with Emory's DRIVE that gave the small biotech firm an exclusive license to molnupiravir. Specific terms of the agreement were not disclosed, but Emory said Ridgeback would be responsible for conducting the required trials to bring the drug to licensure.
The very next day, Painter and other researchers posted a preliminary report on bioRxiv.org describing positive findings associated with molnupiravir in preclinical studies and suggesting that the drug had "potential utility as an effective antiviral against SARS-CoV-2."
Around that same time, Ridgeback's CEO, Wendy Holman, submitted a request for approximately $100 million in federal funding through a program that Dr. Kadlec and others were using — Bright alleged in his whistleblower claim — to circumvent BARDA's requisite review process for funding proposals. Bright said that Ridgeback did not provide any supporting documentation for its funding request.
Ridgeback didn't secure the government funding, but it did initiate a Phase I human safety trial of molnupiravir in the U.K. on April 10.
Then, on May 26, Merck and Ridgeback announced that they had entered into a collaboration agreement to develop the drug. Ridgeback received "an undisclosed upfront payment," and Merck gained exclusive rights to develop and commercialize molnupiravir. Ridgeback is also entitled to receive milestone payments and a share of the net proceeds if the drug is approved.
In a Washington Post article published last June, Dr. Aaron Kesselheim, a professor at Harvard Medical School and a physician at Brigham and Women's Hospital, commented on Emory's agreement to license molnupiravir to Ridgeback:
"I would think that universities … would not normally transfer products to basically a house-flipper. I wouldn't think they would have to engage with speculators, like it appears that Ridgeback Biotherapeutics is."
The article points out that Ridgeback's "wealthy owners," CEO Wendy Holman and her husband, Dr. Wayne Holman, who's a hedge fund manager (he founded Ridgeback Capital in 2006), placed a bet that "paid off with extraordinary speed" when Ridgeback acquired the license to molnupiravir from Emory and then sold it in short order to Merck. In neither transaction were the financial terms disclosed.
Before founding Ridgeback Biotherapeutics in 2015, Wendy Holman was a principal at Ziff Brothers Investments, a multibillion-dollar family office hedge fund. In 2019, she was named to President Trump's advisory council on HIV/AIDS.
We'll also note that Dr. Wendy Painter, Ridgeback's chief medical officer who presented the recent study results at the scientific conference, is married to George Painter, the CEO of Emory's DRIVE.
We aren't accusing Ridgeback of any impropriety, but this tale makes it easy to speculate about how well-connected individuals might make a tidy profit on a drug candidate that hasn't even reached late-stage clinical testing yet but has received millions of dollars in federal funding (i.e., taxpayer money).
Christopher Rowland stated in the article he wrote for The Washington Post, "The perception that companies are profiteering during a global medical crisis — especially in cases where inventions were funded by taxpayers — poses political dangers to the pharmaceutical industry."
"[T]he role of middlemen like Ridgeback puts pressure on companies to increase prices, by adding costs. It also raises questions about who is financially benefiting by securing monopoly licensing rights to publicly financed inventions," Rowland added.
James Love, the director of Knowledge Ecology International, referred to Ridgeback's two-month ownership of the license to molnupiravir as "molecule-flipping."
Throughout the pandemic, drugmakers have been winning the public relations battle in a war they've been losing for years. If molnupiravir makes it to market, we hope that it's priced reasonably by Merck — an act of goodwill that will go a long way here in the U.S.
And if the drug really can help to quickly eliminate SARS-CoV-2 infection, then our fingers are crossed that it does become part of our collective arsenal against COVID-19.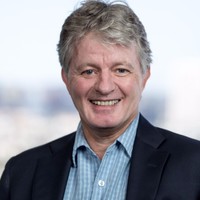 Health Care Rounds: Using Tech to Advance Care for an Aging Population, with Jon Warner
In this week's Health Care Rounds, John welcomes Jon Warner, author, entrepreneur, and CEO of Silver Moonshots. They discuss how tech-based startups, including those focusing on intergenerational opportunities that benefit both younger and older adults, are addressing the health needs of the aging U.S. population. They also touch on how technology is facilitating global collaborations that produce more innovative health care solutions. Finally, Jon offers his views on the need to create a more contextual picture of older adults' health status, including social determinants of health, to better inform their care.
What else you need to know
The FDA authorized the first molecular at-home COVID-19 test that does not require a prescription. The test, developed by Cue Health, was first authorized last June for use in clinical and point-of-care settings. With the new authorization, the test will soon be available over-the-counter for use by adults and children ages two years or older with adult assistance. The test kit includes a single-use test cartridge, a single-use sample wand (nasal swab), a battery-operated cartridge reader, and an app for smartphones and other mobile devices. Results are provided within about 20 minutes. According to the FDA's announcement, Cue Health expects to produce more than 100,000 tests per day by this summer. Pricing information was not provided.
Novavax released final results from its Phase III trial in the U.K., which confirmed that the company's COVID-19 vaccine candidate has an efficacy of 96.4% against mild, moderate, and severe disease caused by the original strain of the coronavirus. The results also indicated an efficacy of 86.3% against the more contagious variant first identified in the U.K. In addition, the company provided results from a smaller Phase IIb trial of the vaccine candidate in South Africa, where another highly contagious variant of the coronavirus is widely circulating. Those results demonstrated an overall efficacy of 55.4% among healthy adults and approximately 49% when HIV-positive participants were included in the analysis. The company anticipates having data early next month from a trial with 30,000 participants that's being conducted in the U.S. and Mexico.
Addus HomeCare entered into a value-based agreement with Presbyterian Health Plan in New Mexico for post-acute care navigation. Specifically, the Frisco, Texas-based in-home care company said it will collaborate with Presbyterian's care coordination teams to support members and their families during the period immediately following hospital discharge, with the intent to identify gaps in care and other issues that might lead to readmissions. Presbyterian Health Plan is part of Presbyterian Healthcare Services, a nine-hospital health system that also has a multi-specialty medical group. Addus offers home care services in 22 states.
CMS is delaying the start of its kidney care payment model by a year, to Jan. 1, 2022. The Kidney Care Choices model was announced in 2019, with the first performance year slated to begin on Jan. 1, 2021. Participants were chosen and an implementation period began late last year, although the start date was pushed back to April 1 because of the pandemic. According to CMS' Innovation Center, the implementation period will now extend through the end of this year "to enable model participants to prepare to take on financial and population health accountability" next January.
Contact Darwin Research Group and we will get right back to you.