Our Take: Full-risk payment models lead to less use of acute care and greater shared savings, but quality of care may suffer, data suggest
Mar 28, 2022
Value-based payment arrangements structured with two-sided financial risk can reduce acute care utilization by Medicare Advantage beneficiaries, compared with upside-only financial risk payment models and traditional fee-for-service (FFS) payments, a recent analysis indicates.
In general, and as anticipated, full-risk payment models also generate higher shared savings than upside-only risk models do, according to a separate analysis.
But the results of the second analysis showed that when accountable care organizations participating in the Medicare Shared Savings Program (MSSP) switched from upside-only risk to two-sided risk, there was a tendency for their quality of care to diminish.
The first analysis, which was published in JAMA Network Open, was conducted by researchers at Humana, Harvard, and Tufts University School of Medicine.  The researchers analyzed three years of claims data for nearly 500,000 members enrolled in Medicare Advantage plans offered by Humana. Within that claims data, they identified hospitalizations, observation stays, and emergency department (ED) visits, which they subsequently segmented into potentially avoidable events and all-cause events.
The members attributed to primary care organizations participating in two-sided risk payment models had lower utilization rates for all three types of acute care as compared with those attributed to primary care organizations with FFS payment arrangements.
The analysis did not reveal any significant difference in utilization rates between FFS and one-sided risk payment arrangements for any of the three types of acute care.
The association between value-based payment and lower acute care utilization was most apparent when looking at the potentially avoidable care events. For example, in comparisons with FFS payments, the full-risk models were associated with a 15.6% relative reduction in avoidable hospitalizations, whereas the relative reduction for all-cause hospitalizations was 4.2%.
"The lack of significant differences between FFS and upside-only risk models suggests that downside financial risk may play a key role in effective value-based payment arrangements," the researchers wrote.
They acknowledged limitations to their analysis, such as potential selection bias in terms of which primary care organizations participate in value-based payment models.
To conduct the second analysis, Indranil Bardhan, a professor at the University of Texas at Austin, used CMS data, predominantly from the Medicare Shared Savings Program (MSSP). He presented his findings at the recent HIMSS conference in Orlando.
According to Healthcare Finance, Bardhan noticed certain trends when he analyzed the data, namely that the ACOs' shared savings were lower during the early years — while they were participating in an upside-only risk track — but their shared savings increased significantly after they switched to a two-sided risk track.
Their quality of care, on the other hand, decreased after the switch.
"But the quality of two-sided ACOs is still higher than one-sided ACOs, which makes them more attractive if you're a policymaker," Bardhan said. "You see better cost savings at a higher level of quality, though quality does go down overall."
He said the MSSP should do more to hold ACOs accountable for their performance on quality measures, such as by implementing self-benchmarks (so that ACOs would compare their progress — or lack thereof — with a baseline measure or the previous year) in addition to the peer benchmarks already in use.
Bardhan also suggested providing incentives for ACOs to continuously improve their quality of care.
Our Take:  The only real surprise here, or at least the only concern, is the drop in quality of care when ACOs take on downside risk.
The goal of the Humana-Harvard analysis was to generate additional evidence of the effects that the shift toward value-based payment models has had specifically within the MA population, since the adoption of value-based care models has occurred more rapidly in this segment than in traditional Medicare or other types of health plans.
In an interview with Fierce Healthcare, Humana's chief medical officer, Dr. William Shrank, who was one of the authors of the study, said of the findings, "This is just more ammunition that value-based care works."
Of note, according to Humana's latest value-based care report, two-thirds (67%) of the insurer's individual MA members seek care from primary care physicians participating in value-based arrangements.
Humana's report also states that members affiliated with value-based care physicians had a significantly greater average annualized PCP visit rate as compared with members affiliated with non-value-based physicians (3,408 visits per 1,000 members vs. 2,712 visits per 1,000 members) but a lower average annualized ED visit rate (194 visits per 1,000 members vs. 209 visits per 1,000 members).
The insurer estimates that in 2020, its MA members would have incurred an additional $3.1 billion in medical costs if they had been enrolled in original Medicare instead of receiving value-based care.
So, yeah, there's plenty of evidence that value-based care, with its emphasis on preventive care, lowers health care costs overall.
When it comes to shared savings models, though, the results are murkier. Health Affairs published a good article about this back in 2018.
Since then, CMS tried not so successfully to push more ACOs to take on downside risk through the "Pathways to Success" overhaul of the MSSP. As Dr. Bardhan, who conducted the second analysis we wrote about above, said, "There's a carrot and a stick."
The Pathways to Success program relied too heavily on the stick. The result was that many ACOs dropped out instead of being forced to transition to a two-sided risk track. While it's good for ACOs to have some skin in the game, it only works if they're actually in the game.
As others have noted, certain issues associated with MSSP and other shared savings models stem from the fact that the models are built on a fee-for-service framework. This could at least partially explain the trend Dr. Bardhan found in his analysis regarding the drop in quality of care after ACOs transition to a full-risk track. When providers focus too intently on cutting the cost of care, then the other two legs of the Triple Aim — improving the patient experience of care and the health of populations — become more challenging.
We'll see what happens as CMS and the Innovation Center work to cull the payment models available to providers and ACOs. Given that the new leadership is making both health equity and transparency more of a priority, we're inclined to believe that those other two legs of the Triple Aim stand to benefit.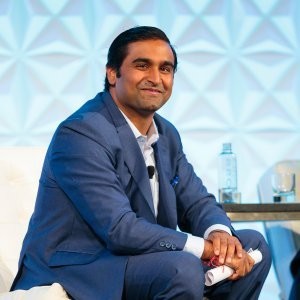 Health Care Rounds Season 6 opener with Robin Shah
We took a long break — we've been busy at Darwin — but we're back with a great lineup of guests for Season 6! We kick off this season with Robin Shah, Founder and CEO of Thyme Care and founding member of OneOncology. John and Robin discuss the classification of super-networks and break down the differences in existing models. Find out how payers are managing various disease states by outsourcing their risk and the impact it has on patient care. Please rate and review if you like Health Care Rounds as it helps other people find us!
What else you need to know
Bristol Myers Squibb's relatlimab is the first LAG-3 inhibitor to gain FDA approval
and represents the first new class of checkpoint therapies the FDA has approved in eight years. The newly approved immunotherapy, branded as Opdualag, is a fixed-dose combination of relatlimab and BMS' Opdivo (nivolumab), a PD-1 inhibitor. It is approved as an initial treatment for unresectable or metastatic melanoma in patients who are at least 12 years old. The approval was based on results from the Phase II/III RELATIVITY-047 clinical trial, in which the combination immunotherapy more than doubled median progression-free survival when compared with Opdivo monotherapy (10.1 months vs. 4.6 months). Reuters reported that BMS expects to price Opdualag, which is administered as a single intravenous infusion, at $27,389. The drugmaker is testing the dual immunotherapy in other tumor types and anticipates that annual sales of Opdualag could exceed $4 billion by 2029, according to Reuters.
In separate news, BMS signeda multiyear drug-discovery agreement with New York City-based Volastra Therapeutics. The collaboration will focus on using Volastra's proprietary chromosomal instability (CIN) targeting platform to identify drug candidates, which BMS could then choose to develop and commercialize. Under the agreement, BMS will pay Volastra $30 million up front, and Volastra is eligible to receive up to $1.1 billion in milestone payments, as well as royalties.
Fresenius Health Partners, InterWell Health, and Cricket Health are combining to form an independent, integrated company that will provide value-based kidney care. (Fresenius Health Partners is the value-based division of Fresenius Medical Care.) In a joint press release, the companies disclosed that Fresenius Medical Care would be the majority owner of the new entity, which they said is valued at $2.4 billion. The combined entity will operate under the InterWell Health name, bringing together Fresenius Health Partners' expertise in value-based kidney care contracting and performance, InterWell Health's clinical care models and network of 1,600 nephrologists, and Cricket Health's predictive analytics and patient engagement platform. Fresenius said the three-way merger could close in the second half of this year if the required regulatory review is completed by then.
Mayo Clinic launched a program for health technology startups called Mayo Clinic Platform_Accelerate. The first cohort of participants consists of four artificial intelligence companies that will have access to experts at Mayo Clinic in the regulatory, clinical, technology, and business domains "with a focus on AI model validation and clinical readiness," the health system noted in anews release. During the 20-week immersive program, representatives from the participating companies will also have the opportunity to attend workshops presented by technology experts from Google and Epic. The companies chosen as the inaugural participants are cliexa, Quadrant Health, ScienceIO, and Seer Medical.
Sarah London has been appointed CEO of Centene, effective immediately. She succeeds Michael Neidorff, who has led the company since 1996. Neidorff announced in December that he planned to retire this year, and he has been on a medical leave of absence from his role as board chairman since last month. London came to Centene from Optum in 2020. She most recently served as vice chairperson. In addition to leading Centene's technology and digital strategy, as well as the company's health care enterprises and specialty divisions, she has assisted with managing the company in Neidorff's absence.
Henry Ford Health has dropped the word "System" from its name. The change is intended to place greater emphasis on the word "health," according to a news release, and the new branding initiative is designed to unite all of the health system's offerings and its academic mission. Along with the name change, the organization unveiled a new logo and an advertising campaign called "I Am Henry," which began airing during March Madness coverage.
Contact Darwin Research Group and we will get right back to you.