Our Take: Community providers form independent cancer care network
Sep 17, 2018
Three large cancer practices have teamed up to create OneOncology. Announced Wednesday, OneOncology includes Tennessee Oncology, New York Cancer & Blood Specialists and Memphis-based West Cancer Center, comprising more than 225 providers and over 60 locations. The new company is being infused with $200 million in funding from New York-based private equity firm General Atlantic and will be technology enabled by Flatiron Health.
OneOncology's president and CEO is Tracy Bahl, formerly CVS Health's executive vice president of health plans. Other leaders include David Chernow as board chairman, Phil Watts as general counsel and Robin Shah as chief development and marketing officer. The company is headquartered in Nashville, Tenn.
"Cancer is increasingly being treated like a chronic condition rather than a terminal diagnosis," said Bahl. "Working together with world-class oncologists, we will drive the change that community cancer needs through continual learning, creative and smart evolution, and a collective desire to positively impact the lives of every person touched by cancer."
Our Take
:
In one view, the merger is about survival—about community-based practices remaining independent, staving off takeovers by larger entities or avoiding the need to shut their doors because of financial difficulties.
That's the picture painted in
a recent release of
the 2018 Community Oncology Alliance (COA) Practice Impact Report, which monitors data on practice closures, hospital acquisitions and corporate mergers. Since 2008, according to COA, 1,653 community oncology clinics and/or practices have closed, been acquired by hospitals, undergone corporate mergers or reported that they are struggling financially. (Click on the image below for an interactive map.)
Now, we don't know how that compares with other specialties, but we are awa
re of a broader trend of physician practice consolidation. Often, these mergers escape the ire of regulators because they're among relatively small groups. It costs more to run a practice today than it did a decade ago—think technology, increased support staff, declining reimbursement and alternative payment models as some of the reasons why.
A 2016 Milliman study comm
issioned by COA showed that independent community cancer practices delivered about 50 percent of cancer care in 2014, down from 84 percent in 2004. According to Milliman, the shift from community practices to the more expensive hospital setting cost Medicare about $2 billion in 2014 alone.
Tennessee Oncology is one of the nation's largest community-based cancer care specialists. The deal, in a sense, is a way for the southern powerhouse to expand into the New York market. Whether or not you view this as a merger of equals, look for OneOncology to expand into other markets in the future. That $200 million in funding will help it get there faster.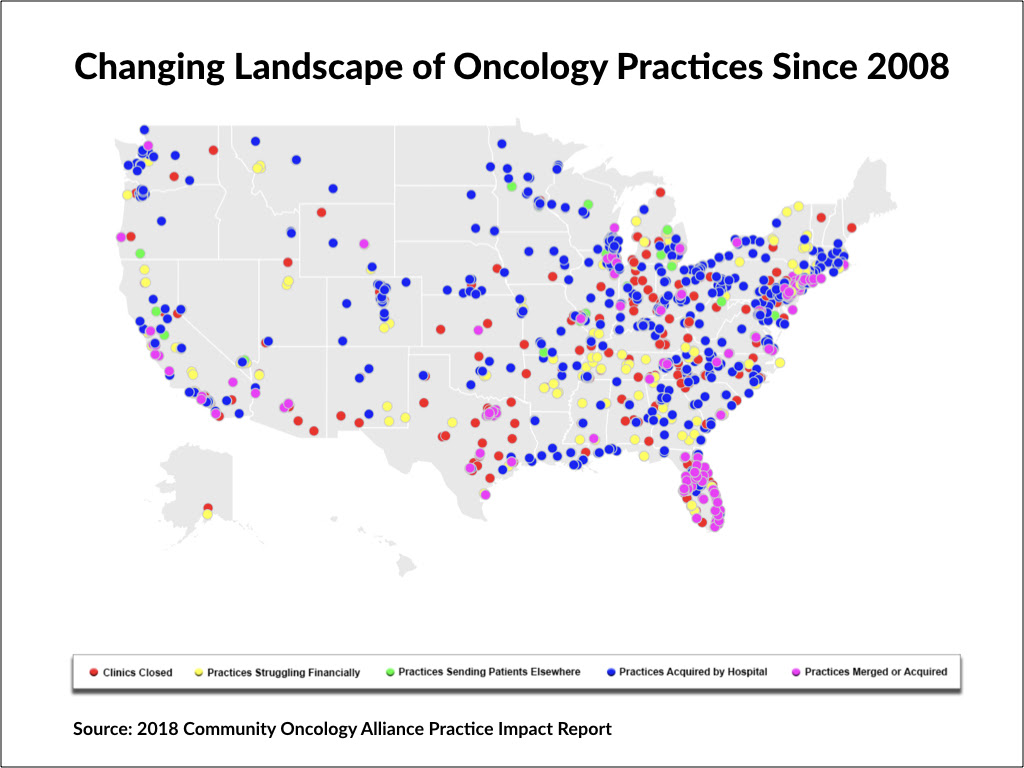 What else you need to know
The new Apple Watch Series 4 includes an electrocardiogram sensor
that will alert users if their heartbeat is irregular. "This is the first ECG product offered over the counter, directly to consumers," said Apple Chief Operating Officer Jeff Williams when he announced the Apple Watch Series 4 at an Apple event on Sept. 12. "You can now take an ECG anytime, anywhere, right from your wrist." The new Apple Watch also has a feature that detects falls and offers the wearer the option to make an emergency call. If no movement is detected after one minute, the watch will automatically place the call. More
here.
Cigna announced the launch of Cigna Ventures, a corporate venture fund that will focus on early-stage, innovative health care companies. Cigna said it has committed $250 million of capital to the fund, which will focus on companies in three strategic areas: insights and analytics; digital health and retail; and care delivery/management. Cigna has already been collaborating with five venture capital partners, in addition to financing or investing in Omada Health, Prognos, Contessa Health, MDLIVE and Cricket Health. More here.
Several health care industry leaders announced a framework
for an alternative payment model for addiction treatment and recovery. The Alliance for Recovery-Centered Addiction Health Services includes Remedy Partners, Leavitt Partners, Facing Addiction with NCADD (the National Council on Alcoholism and Drug Dependence) and other health care organizations. The Addiction Recovery Medical Home (ARMH) model incorporates aspects of fee-for-service, episodes-of-care, quality-adjustments and shared-savings payment models, promoting "improved integration of treatment and recovery resources with corresponding financial incentives that benefit all stakeholders," the alliance said in a statement. At least two pilot programs will be launch
ed in 2019. More here.
Geisinger, Kaiser Permanente, Johns Hopkins Medicine and about 30 other institutions have established the Coalition to Improve Diagnosis. According to the organization's website, the coalition was created to bring awareness, attention and action to the problem of diagnostic error. "Physicians excel at diagnosis, but errors or delays in reaching the right diagnosis still create harm, and we can do better," said Dr. Mark Graber, president and founder of the Society to Improve Diagnosis in Medicine. More here.
People on the move
Henry Ford Health System has named
Richard "Chip" Davis
to take on the role of CEO at Henry Ford Hospital, replacing
Dr. John Popovich Jr.
, who retired earlier this year. Davis will also serve as senior vice president and CEO of the system's south market. He will join Henry Ford in November; currently, he is president and CEO of Sibley Memorial Hospital, which is part of Johns Hopkins Medicine.
R. Milton Johnson
is stepping down as chairman and CEO of Hospital Corporation of America (HCA) at the end of the year. He will be replaced by HCA's president and chief operating officer,
Sam Hazen
.
Former U.S. Department of Veterans Affairs Secretary
Dr. David Shulkin
is joining Sioux Falls, S.D.-based Sanford Health as chief innovation officer and strategic adviser.
By the numbers
We have two follow-up points to last week's update on ACO performance in the Medicare Shared Savings Program (MSSP). First, about 60 percent of MSSP ACOs had shared savings in 2017, while 40 percent had shared losses. Either way, when it comes to shared savings per beneficiary, the sweet spot appears to be between $100 and $499. Only three ACOs that generated shared savings didn't earn a bonus.
We pointed out that experience is related to performance but neglected to show just how much. In 2017, MSSP ACOs that had a 2012/2013 start date had a total of $205 million in net savings and those with a 2014 start date had $173 million in net savings. But those starting in 2015 saved only $5 million, and the newest starts, in 2016 and 2017, had net losses of $34 million in each year. Experience matters.

Contact Darwin Research Group and we will get right back to you.