Our Take: CMS releases list of 43 Part B drugs flagged for quarterly rebates in IRA program
Jun 19, 2023
The manufacturers of 43 Part B prescription drugs and biological products may be required to pay rebates to Medicare because they increased prices on the drugs faster than the rate of inflation during the first quarter. 
The rebates are required under the Medicare Prescription Drug Inflation Rebate Program, which is part of the Inflation Reduction Act signed into law last August.  
As a result of the rebates, and depending on their coverage, some people enrolled in traditional Medicare or Medicare Advantage plans may pay a lower coinsurance amount for these drugs between July 1 and Sept. 30. Their coinsurance costs could be anywhere from $1 to $449 lower per average dose in comparison with what they would have paid before the IRA was passed, CMS stated. 
"The Medicare Prescription Drug Inflation Rebate Program is a critical way to address long-term price increases by drug companies, and CMS is continuing our work to make prescription drugs more affordable for people with Medicare," CMS Administrator Chiquita Brooks-LaSure said in a press release. 
Although 27 drugs were on CMS' first quarterly list of Part B rebatable drugs published in March, that list was later trimmed to 20 drugs. The list reflected drugs with price increases that outpaced inflation during the final quarter of last year.  
Eighteen of those first 20 drugs remained on the new list, and another 25 were added.
While Pfizer had the most drugs (five) on the first list, seven of the 25 newly added drugs are manufactured by Amgen. 
According to CMS, the agency's normal procedure is to publish the Medicare Part B Quarterly Sales Pricing files, which now include the coinsurance adjustments for the rebatable drugs, several weeks ahead of the quarter in which they will go into effect. This gives the public a chance to review the files and report potential discrepancies, according to CMS. 
That is why seven drugs were later removed from the first list of rebatable drugs, and CMS noted that the most recent list may also change if updated data becomes available.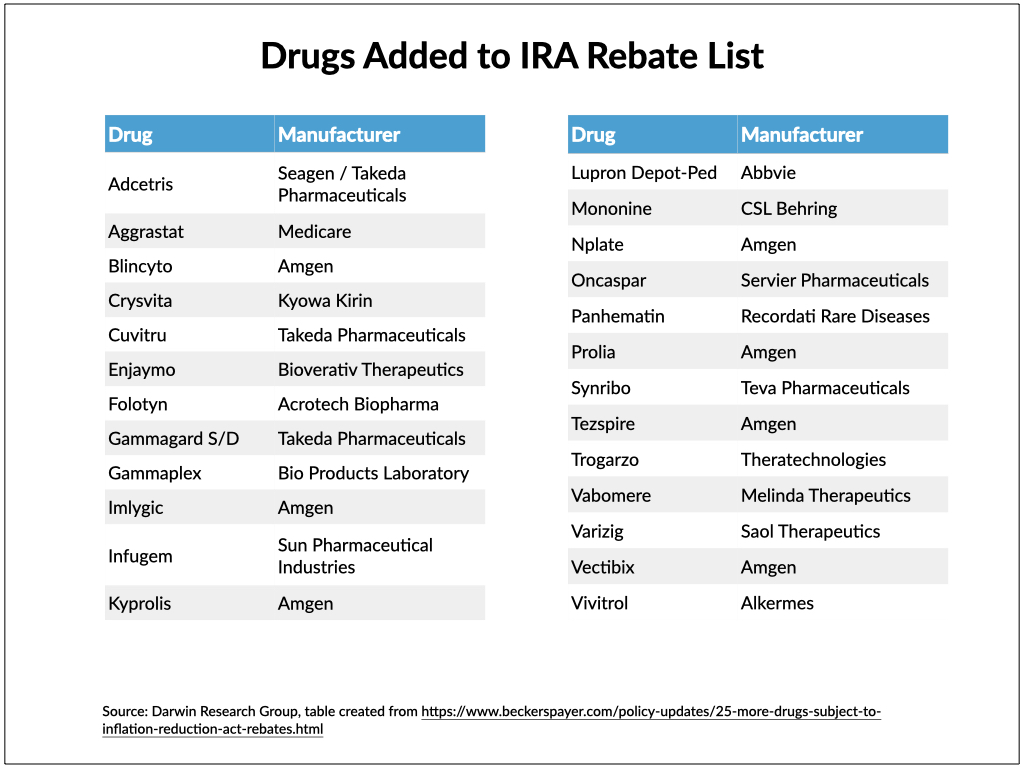 What else you need to know
Novartis agreed to acquire Seattle-based Chinook Therapeutics for $3.2 billion in cash up front. Chinook has two IgA nephropathy candidates — atrasentan and zigakibart — in late-stage development. IgA nephropathy is also known as Berger's disease. Novartis said in the announcement that the boards of both companies unanimously approved the deal, which is expected to close later this year if customary closing conditions are met. At closing, shareholders of Chinook common stock will receive $40 per share in cash along with a contingent value right worth up to $4 per share (another $300 million) if certain regulatory milestones are achieved. The purchase price represents a 67% premium over the closing price of Chinook's stock on the day before the acquisition was announced. 
Exeter Health Resources' merger with Beth Israel Lahey Health (BILH) is a step closer to completion. The health systems reached an agreement with the New Hampshire attorney general's office last week allowing the transaction to proceed. The agreement will go to the state's courts for final approval, BILH said in a press release, and the health systems anticipate being able to finalize the deal later this summer. Exeter Health and BILH signed a definitive agreement last June, and the board of each health system subsequently approved the merger.  
Aetna, Humana, and a subsidiary of Centene are the first payers awarded contracts for Oklahoma's SoonerSelect, a new value-based, Medicaid managed care program set to launch next spring, pending CMS approval. Specifically, Aetna Better Health of Oklahoma, Human Health Horizons of Oklahoma, and Oklahoma Complete Health will serve certain enrollees in SoonerSelect medical plans, the Oklahoma Health Care Authority announced, and Oklahoma Complete Health will also serve the children's specialty program. 
Overpayments to Medicare Advantage plans could exceed $75 billion this year, a recent analysis indicates. The federal government pays MA plans based on the average risk score for enrollees in traditional Medicare, but researchers at the University of Southern California, Los Angeles found that enrollees in MA plans tend to have significantly lower expenses than those with similar risk scores in traditional Medicare. MedPAC estimated 2023 overpayments at about $27 billion, but the authors of the study believe the total could be nearly three times that amount. In a news release, Paul Ginsburg, senior fellow at the USC Schaeffer Center and one of the authors, said, "The current Medicare Advantage payment structure results in overpayments markedly higher than previously understood. Our analysis highlights how Medicare Advantage currently operates and a the need to reform how plans are paid." 
Francis deSouza resigned as Illumina's CEO and board member but will stay on through July in an advisory capacity, the company stated in a press release. While the board conducts a search for deSouza's successor, Charles Dadswell, who serves as senior vice president and general counsel at the San Diego-based biotech firm, will serve as interim CEO. 
Cano Health's CEO, Dr. Marlow Hernandez, agreed to step down from that role, the company announced Friday, but will continue to serve on the board of directors. Mark Kent, who joined Cano Health in April as the Miami-based company's chief strategy officer, was named interim CEO while an external search is conducted for someone to fill the role permanently. 
Contact Darwin Research Group and we will get right back to you.