Our Take: Obamacare enrollment: It's not as bad as you think
Apr 17, 2018
Last week the Centers for Medicare and Medicaid Services (CMS) provided enrollment statistics for Healthcare.gov and the state-run exchanges created by the Affordable Care Act (ACA).
Our Take

:
If you've been reading Our Take and its precursor, Business & Health, you might be inclined to believe that the ACA is on life support.
For one, the Trump administration has made no secret about its collective distaste for the health care law, now in its sixth year. Most recently, in its last tax package, the Republican-led Congress zeroed out the individual mandate penalty—a cornerstone of the ACA.
The Congressional Budget Office (CBO) estimates that
13 million people will lose or drop coverage as a result of this move over the next decade. The CBO also estimates that premiums will increase by about 10 percent each year, as healthier and younger people self-eliminate from risk pools within the states.
But before that, the Trump
administration decided that it would defund any advertising and promotion for the ACA, and specifically any efforts to promote or facilitate Obamacare enrollment. Then there was the reduction in the enrollment period from 90 days to 45 days at the end of 2017. And, in one final jab, HHS officials announced that healthcare.gov would be shut down for maintenance for 12 hours every Sunday, throughout open enrollment.
Taken collectively, we expected enrollment to crater by the end of the year.
What happened? Exchange enrollment fell 3.3 percent to 11.8 million, down from 12.2 million in 2017—hardly a disaster. Despite all of the hurdles being thrown at it, at least for now, Obamacare is surviving.
Why? Because the people who are signing up for health care need it, and despite soaring premiums, state subsidies largely shouldered the burden.
Here are five facts the most recent data tell us about the state of the exchanges:
1. Enrollment growth (and decline) varies widely by state.
Rhode Island had the most robust growth in enrollment, up 12 percent from 2017. Louisiana enrollment declined nearly 24 percent, at the bottom of the list two years running.
2. Premiums vary widely by state.
Wyoming had the highest premiums, at $983 per month, while Massachusetts had the lowest, at $385 per month. There was only one insurer on the Wyoming exchange and fewer than 25,000 enrollees. In contrast, Massachusetts had five payer options—Aetna, Cigna, Kaiser, Oscar and Blue Cross—and 267,000 enrollees.
3. Premiums are on the rise.
Premiums increased an average of 30 percent across all 39 Healthcare.gov states at $621 per month, compared with $476 in 2017.
4. Subsidies are compensating for premium increases.
About 83 percent of consumers had their premiums reduced through an advanced tax credit. On average, those who received subsidies paid $89 per month in 2017, down from $106 in 2016. In Rhode Island, where there were such notable gains in enrollment, federal subsidies rose by 46 percent in 2017.
5. Consumers are switching to high-deductible plans
. In 2018, 63 percent of consumers enrolled in mid-tier (silver) plans, compared with 71 percent in 2017. So, while coverage wasn't being dropped, switching to high-deductible bronze plans might mean fewer visits to the doctor for preventive care.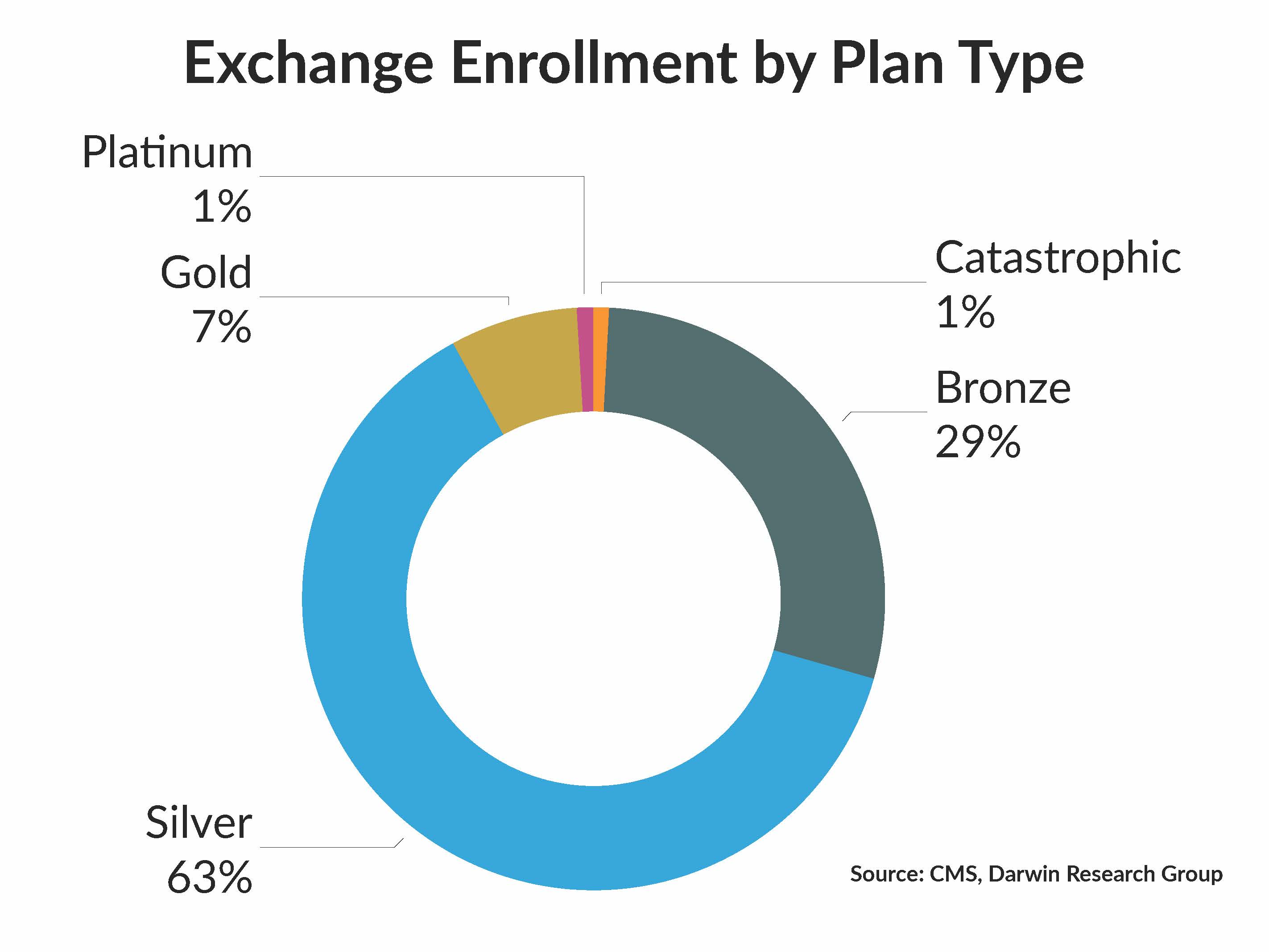 What else you need to know
The University of Pennsylvania Health System, Mercy Health System
of Southeastern Pennsylvania (Mercy) and St. Mary Medical Center (St. Mary) announced a strategic alliance to develop clinical care programs and population health initiatives in the greater Philadelphia metro area, including Bucks, Delaware and Philadelphia counties. In a joint news release, the systems said their initial areas of focus would be in cardiology, cancer care and surgical services. Mercy and St. Mary are members of
Trinity Health, one of the nation's largest Catholic health systems. More here.
Great Lakes Caring, National Home Health Care and Jordan Health Services announced a three-way merger that, combined, will be one of the nation's largest providers of home-based care. The deal is being financed through Blue Wolf Capital Partners and Kelso & Company, which will own the combined entity. Current National Home Health Care CEO G. Scott Herman will be the CEO of the new company. The combined entity will have 221 locations across 15 states, with 31,000 employees. More here.
Humana completed its acquisition of Orlando-based Family Physicians Group (FPG),
a group that includes 22 clinics in Lake, Orange, Osceola and Seminole counties. Humana said FPG Is one of the largest at-risk providers serving Medicare Advantage patients in the greater Orlando area, providing care for 22,000 Medicare Advantage patients, including about 4,000 Humana members. "The acquisition of FPG advances Humana's strategy of helping physicians and clinicians evolve from treating health episodically to managing health holistically," Huma
na said. More here.
Phoenix-based Banner Health agreed to settle with the federal government and will pay more than $18 million to resolve allegations that it submitted false claims to Medicare. Specifically, the suit alleged that Banner billed Medicare for short-term, inpatient procedures that should have been billed on an outpatient basis. In addition to the upfront payment, Banner has entered into a five-year corporate integrity agreement with the Office of the Inspector General for Health and Human Services, and will retain an independent group to audit Banner's billing practices for health services paid for by the state and federal government. More here.
Led by California Attorney General Xavier Becerra, Democratic state attorneys general in 15 states and the District of Columbia filed a motion to intervene in a Texas lawsuit previously filed by Republican state attorneys general to strike down the Affordable Care Act. According t
o the motion, the Tex
as lawsuit petitioned the federal court to stop Medicaid expansion, end health care tax credits, allow insurance companies to deny coverage to people with pre-existing conditions and more. Download the Fact Sheet here.
Landmark Health CEO and veteran entrepreneur Adam Boehler has been tapped to lead CMS' Innovation Center (also known as CMMI). The Innovation Center offers grants to states and entities that offer unique payment and delivery models, often to underserved populations and disease states. More here abo
ut a notable CMMI program.
Contact Darwin Research Group and we will get right back to you.