Our Take: Humana launches new oncology payment model
Apr 22, 2019
Humana announced that it has launched a national value-based care oncology program for its commercial and Medicare Advantage members.
The company said its Oncology Model of Care (OMOC) "aims to improve the patient experience and health outcomes … through provider delivery of coordinated, cost-effective care." In addition to offering analytics, Humana will provide compensation for "enhanced care navigation" to reduce costs and improve care, focusing on inpatient admissions, emergency room visits, medications, laboratory and pathology services, and radiology.
"With the field of oncology rapidly evolving, we're very pleased to announce the launch of a quality-based program specifically focused on the delivery of cancer care," said Dr. Bryan Loy, corporate medical director of Humana's Oncology, Laboratory, and Personalized Medicine Strategies Group.
This is Humana's fourth specialty-care payment model. The company also has episode-based payment models in orthopedics for Medicare Advantage members undergoing total hip or knee replacement or spinal fusion, as well as a maternity episode-of-care program for commercial plan members.
As of December 31, 2018, Humana
had
approximately 3.6 million Medicare Advantage members and 1.0 million commercial group members.
Our Take

:
Depending upon which part of the country you're in, alternative payment models in oncology are becoming the norm, not the exception. Humana is a little late to the party.
The largest of such programs is, of course, the CMS Innovation Center's Oncology Care Model (OCM). The center launched OCM, its first specialty-specific, multipayer alternative payment model, on July 1, 2016. About 200 physician-led oncology practices are participating in the model — almost double what CMS anticipated — along with 16 private insurers across the country. The Medicare arm of the OCM includes more than 3,200 oncologists and covers approximately 155,000 beneficiaries.
Private insurers participating in the OCM have agreed to align their models with the OCM by providing monthly payments for enhanced services, such as care coordination and navigation, and payments for performance. They have also agreed to share data among participating practices to help improve performance and align with a set of core quality measures.
Cigna's Collaborative Care model is an ACO-like program that emphasizes care coordinators, which Cigna embeds in partner practices. The company's Collaborative Care model for oncology is more like a medical home model, with emphasis on six areas: patient education and shared decision-making; holistic evaluation of symptoms and quality of life; proactive care coordination; hospice care coordination; access and referral coordination; and primary care transitioning. Providers receive monetary incentives based on quality and performance.
UnitedHealthcare (UHC) rolled out its episode-based payment model between October 2009 and December 2012 with over 500 oncologists nationwide. According to UHC, the results showed a significant reduction in hospitalizations for patients and a 34% reduction in total costs, while improving quality.
Aetna follows a medical home model for cancer care, with four pillars: an orientation to the whole person; evidence-based, personalized medical care; coordinated and integrated care; and quality and safety. The company has implemented its model with some big names in cancer care, including Regional Cancer Care Associates, Moffitt Cancer Center and University of Chicago Medicine.
Several of the Blues are heavily involved in the OCM and have created OCM-like arrangements for commercial customers.
Humana may be smart by being a laggard in launching its alternative payment model in oncology. It's had the benefit of watching others experiment for a decade to see what works best for patients and providers — and for their bottom line.
The thing is, all of these models are expensive, at least in the short run. Sophisticated information technology is required to support data collection. Nurses need to be trained to provide evidence-based guidance that adheres to specific protocols. And, overall, practices are providing more services, such as same-day access to physicians and support for making and keeping appointments for tests and procedures.
But eventually, as the UHC pilot showed, there can be a return on investment for these alternative payment models, including reduced costs and improved quality.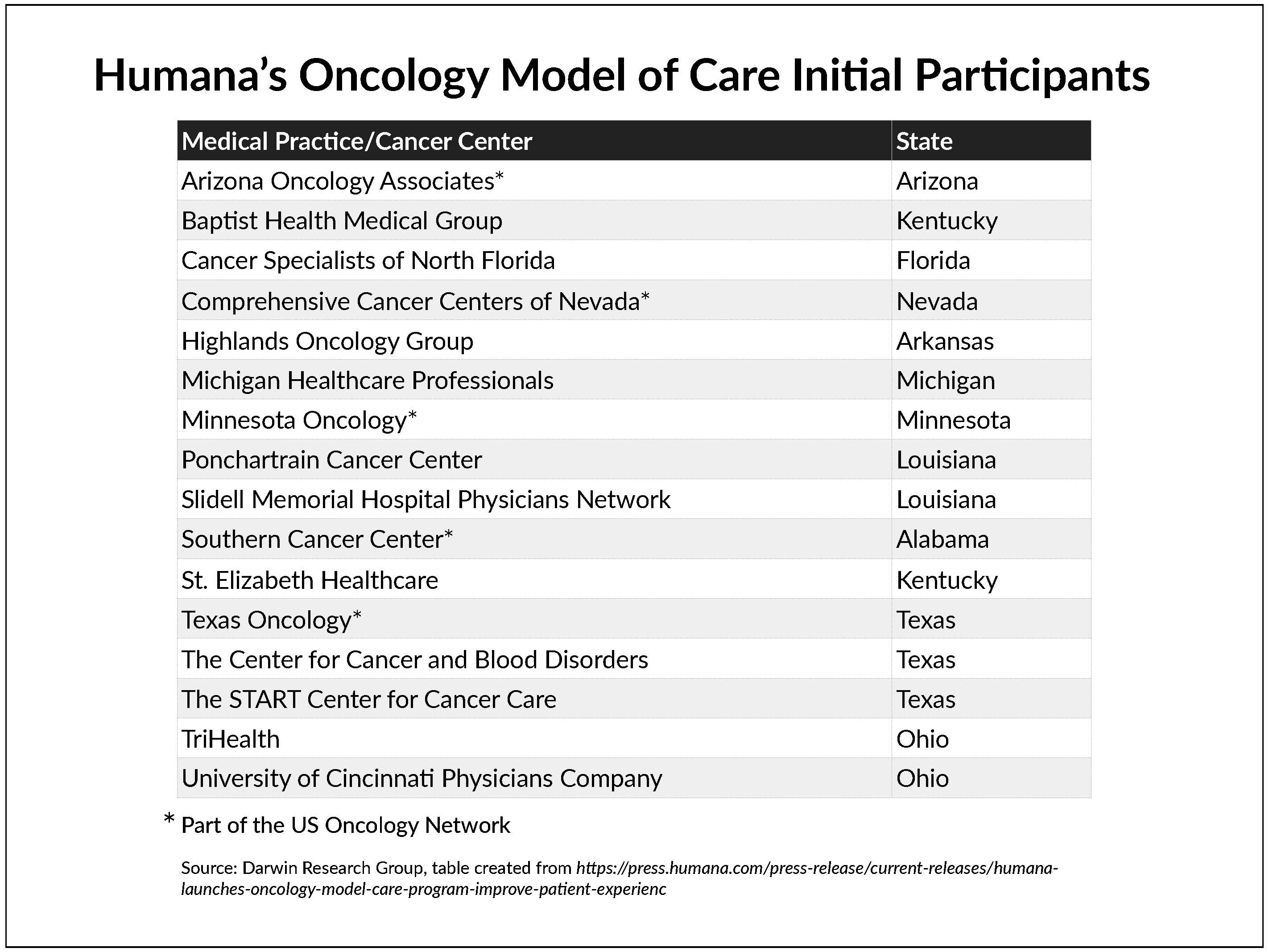 What else you need to know
Chronic conditions cost the U.S. economy over $4.7 trillion
annually, and that number is likely to double in the next three decades as baby boomers continue to age, according to a report by Fitch Solutions. Direct costs (e.g., hospital care, physician visits, drugs, medical devices and home care) for the leading chronic conditions — which include Alzheimer's disease, arthritis, cancer, cardiovascular disease, diabetes and obesity — are more than $1 trillion per year. Indirect costs (e.g., loss of income, lower productivity, early retirement and premature mortality) are about $3.7 trillion.
The Senate Finance Committee has requested an investigation
of price spreading practices by pharmacy benefit managers (PBMs). The committee's top members, Sens. Chuck Grassley, R-Iowa, and Ron Wyden, D-Ore., sent a
letter
to the Office of the Inspector General about "concerning practices by [PBMs] in state Medicaid programs." Price spreading is when a PBM charges a payer more for a drug than the PBM paid a pharmacy in reimbursement. In the letter, the senators pointed to results from an audit of Ohio's Medicaid program as an example of their concern; the audit found that PBMs made more than $224 million in a year's time via price spreading.
Sutter Health and the University of Pittsburgh Medical Center (UPMC)
are
partnering
with DNAnexus to develop personalized treatments for multiple sclerosis (MS). Researchers at Sutter Health's Center for Precision Medicine will collect clinical data from more than 3,000 patients with MS, and the UPMC Genome Center will generate genomic data from participating patients' samples. The data sets will be processed and linked on DNAnexus' Apollo platform. The first phase of the study is set to begin in May. Separately, a recently published
study
of 241 patients with an established diagnosis of MS found that 18% of the patients did not actually have MS but instead had some other condition such as migraine.
CMS is encouraging the use of generic drugs in Obamacare
health plans by including a provision in a new
rule
that will allow insurers to dissuade plan members from using manufacturers' coupons to lower their out-of-pocket costs for certain brand-name drugs when a generic alternative is available. To steer plan members toward the generic versions, starting in the 2020 plan year, insurers will be allowed to advise members that their copays will not count toward their annual cost-sharing limit if the member chooses the brand-name drug and uses a manufacturer's coupon to lower the cost.
The FDA approved the first targeted therapy for metastatic
bladder cancer,Janssen Pharmaceuticals' Balversa (erdafitinib). The drug, which received accelerated approval, is indicated for use in adults with locally advanced or metastatic bladder cancer that has an FGFR3 or FGFR2 genetic alteration and has progressed despite chemotherapy. A companion diagnostic device was approved in conjunction with the drug's approval.
Contact Darwin Research Group and we will get right back to you.