Our Take: Extending short-term health plan coverage: The latest attempt to hobble the ACA
Aug 06, 2018
The Trump administration issued a final rule concerning short-term health plans. Consumers can now extend coverage for up to a year, with the option to renew for up to three years. The current rule, issued under the Obama administration, limits short-term coverage to three months.
"President Trump is bringing more affordable insurance options back to the market, including through allowing the renewal of short-term plans," said Health and Human Services Secretary Alex Azar. "These plans aren't for everyone, but they can provide a much more affordable option for millions of the forgotten men and women left out by the current system."
Our Take
: On the surface, the final rule looks like a good idea—especially if you never bought into Obamacare. On average, individual unsubsidized Affordable Care Act (ACA) plans cost about $400/month. By comparison, average short-term health plans cost about $125/month. That's good news if you're young, male and healthy, and you don't have any pre-existing conditions.
We have chronicled over the years the steps that lawmakers have taken to chip away at the ACA. The first was the failure to fund risk corridor payments to insurers—which spooked payers and led them to withdraw from markets across the nation—leading to markets lacking competition, which in some markets led to skyrocketing premium prices.
Then, there was the failure to enforce the individual mandate, and the Justice Department's subsequent decision not to defend lawsuits against the ACA.
Then came the administration's push for association health plans, and now the ruling on short-term plans, both of which bypass fundamental provisions in the ACA, such as coverage for pre-existing conditions, and offering mandatory benefits, like coverage for behavioral health services and substance abuse.
(Side-note: at the end of July, attorneys general from 11 states and Washington, D.C. filed suit against the Trump administration, seeking to roll back a regulation that allowed for the expansion of association health plans.)
Here's what industry advocates had to say about short-term health plans:
"We remain concerned that consumers who rely on short-term plans for an extended time period will face high medical bills when they need care that isn't covered or exceed their coverage limits." – Matt Eyles, president and CEO, America's Health Insurance Plans
"Fake insurance is no substitute for real coverage. ACAP has long opposed this … proposal as an arbitrary and capricious effort to do a regulatory end-run around the patient protections in the Affordable Care Act. Countless Americans will be hurt by this new regulation, from patients to providers." – Margaret Murray, CEO, Association for Community Affiliated Plans
Whatever you may think about Obamacare, these debates come down to one's personal belief in the role of government in the funding of health care. How you interpret the charts below in "By the numbers" will offer an indication of where you come down on the issue.
But, as you view the chart, keep one background statistic in mind: We spend about 18 percent of GDP on health care, or about $3.3 trillion in 2016. Every year, we spend more on health care and the percentage of GDP continues to climb. Everyone should agree that this is a problem.
The ACA—shorthand for the Patient Protection and Affordable Care Act—was designed to protect consumers from insurance industry practices that had potential for harm, like being denied coverage for pre-existing conditions. It was also designed to introduce free market principles to local insurance markets, which in turn would expand coverage to Americans who didn't have health insurance, either out of personal choice or because they couldn't afford it. Other provisions in the ACA, such as accountable care organizations and bundled payments, were designed to slow the growth spending without compromising care.
By any objective measure, the early years of the ACA were a success. Not so much anymore.
Here's the thing. The fundamental tenets of the ACA are like legs on a stool. Taken together, the stool stands strong. But lawmakers have been chipping away at the legs—risk sharing among payers, the individual mandate, broad coverage of health care services—and that is undermining the sustainability of the ACA.
The final rule on short-term health plans will offer relief to consumers who are paying high prices for premiums that, ironically, were largely caused by government policy to begin with. Let's just hope they don't get sick.
What else you need to know
Hackensack Meridian Health will acquire Carrier Clinic,
a behavioral health provider based in Belle Mead, N.J. Dubbed a merger, the agreement is subject to regulatory approval. Carrier Clinic sits on a 100-acre rural campus that includes a 281-bed inpatient psychiatric hospital; a licensed 40-bed inpatient and outpatient detox and recovery facility; East Mountain Youth Lodge, which can house up to 91 residents ages 13-18; and East Mountain School, a fully accredited school for 120 7th-12th graders affected by behavioral and psychi
atric disorders. More here.
Geisinger and AstraZeneca have teamed up to create a suite of products to improve the care of patients with asthma. According to Geisinger, a real-time, web-based application called the Provider Asthma Management Assistant is connected to a mobile app that "combines EHR and patient-reported data feeds to enable asthma educators and respiratory therapists to triage patients on the fly and bring in specialists as needed. The mobile app also allows patients to view asthma-related weather forecasts, log symptoms and asthma triggers, establish medication reminders, track health status over time and communicate with Geisinger providers. More here.
Centene and Ascension signed a letter of intent to explore a joint venture
that would create a Medicare Advantage (MA) plan in multiple markets, beginning in 2020. In a press release, the companies said the MA plan would be established as a preferred model for the res
pective systems and affiliates for Centene and Ascension in select markets. More here.
Activist investor Carl Icahan intends to vote against Cigna Corp.'s planned acquisition of Express Scripts Holding Co., The Wall Street Journal reported. Icahn, who owns about 5 percent of Cigna's outstanding shares, believes the company is paying too much for the pharmacy benefits manager. According to people familiar with the matter, Icahn is expected to urge shareholders not to support the deal prior to the scheduled Aug. 24 vote. More here.
People on the move
Elliott Fisher
, director of The Dartmouth Institute for Health Policy and Clinical Practice, has been placed on administrative leave while an investigation into workplace misconduct takes place. Duane Compton, dean of the Geisel School of Medicine, announced the investigation in an email sent to medical school faculty members. Fisher was one of the originators of the concept of accountable care organizations.
John M. Starcher Jr.
, CEO of Cincinnati-based Mercy Health, will become president and CEO of Bon Secours Mercy Health after the two organizations complete their merger in the fall. Bon Secours president and CEO Rich Statuto will remain for a year as an adviser before retiring sometime in 2019.
Highmark Health has named
Karen Hanlon
as chief operating officer, a newly created position for the health care holding company. Hanlon was previously executive vice president and chief financial officer; she has been with Highmark since 1997.
By the numbers
By source of funds, our tax dollars are responsible for 45 percent of health care spending, according to 2016 National Health Expenditure data. Out-of-pocket spending grew 3.9 percent in 2016, the fastest rate of growth since 2007, and exceeded the average annual growth of 2.0 percent from 2008-2015.
Cutting the data another way, health expenditures are also measured by type of sponsor, which the Centers for Medicare and Medicaid Services defines as the entity that is ultimately responsible for financing the health care bill, such as private businesses, households and governments. In 2016, private businesses were responsible for about 20 percent of health care spending. Households contributed to 23 percent of spending.
Click on the chart to download.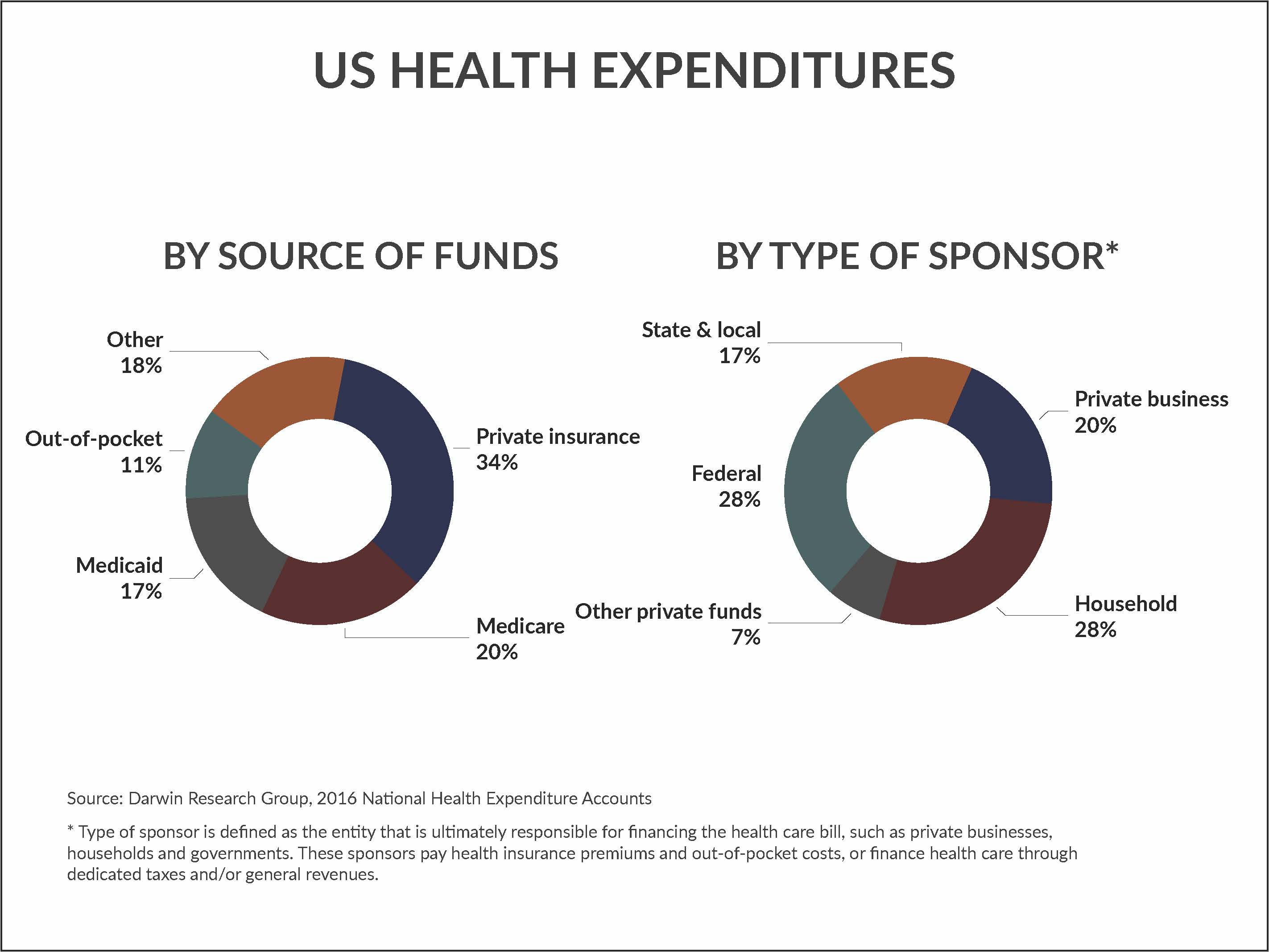 Contact Darwin Research Group and we will get right back to you.