Our Take: EHRs and physician burnout
May 06, 2019
In a new Medscape poll, 44% of physicians said electronic health record (EHR) systems have decreased the quality of patient care in their practice, while 40% said EHRs have improved it.
Among nurses and advanced practice registered nurses (APRNs), however, 42% said quality of care under their EHR system has improved, versus 35% who said care quality has declined.
Physicians who said EHRs improved the quality of care cited the following as the top reasons for improvement: the ability to locate and review patient information more easily (59%), the ability to electronically prescribe (49%) and portability/access to patient records by all members of the care team (44%).
As for the main reasons given for reduced quality of care, physicians and nurses pointed to more paperwork/charting, entering data during the patient encounter, lack of interoperability with other systems, and system failures or problems; all of these reasons were given "similar weight," according to Medscape.
One family medicine physician who was polled commented that EHRs detract from the patient narrative, noting that they reduce "fascinating human stories to utterly boring, repetitious templates."
The poll included 207 physicians and 66 nurses/APRNs.
Our Take

:
The Medscape poll runs counter to a Harris/Stanford Medici
ne survey of
more than 500 primary care physicians (PCPs) in 2018, in which 63% of PCPs said they thought EHRs had generally led to improved care and 66% were at least somewhat satisfied with their current EHR systems.
But beyond the top-line results, the Harris/Stanford study showed that EHRs are taking a toll on physicians and affecting patient care:
• 74% said EHRs increase the number of hours worked per day
• 71% said EHRs greatly contribute to physician burnout
• 69% said using an EHR takes valuable time away from patients
• 49% said EHRs detract from their clinical effectiveness
If we were Epic, those numbers would make us cringe.
Physician burnout is a serious problem. According to the 2019 Medscape National Physician Burnout, Depression & Suicide Report, about half of the 15,069 physicians surveyed were in the middle range (scoring 4 or 5 on a 7-point scale) between burnout not interfering with their life and burnout being so severe that they were thinking of leaving medicine.
"My relationships have withered … my family is frustrated," wrote one general surgeon. "We rarely make plans to do anything socially, as they are likely to be canceled."
Incidentally, general surgeons topped all specialties for being overworked, with 77% of surgeons citing long work hours as contributing to burnout.
Overall, the physicians who were polled said factors that contributed to burnout included too many bureaucratic tasks (59%), spending too many hours at work (34%) and EHRs/increasing computerization of their practice (32%).
The added burden that EHRs place on physician practices is quantifiable. A 2016 American Medical Association (AMA) and Dartmouth-Hitchcock Medical Cente
r study
found that for every hour of face-to-face time with patients, physicians spent nearly two additional hours on EHR-related and clerical tasks.
EHRs are now an essential part of the workflow in most physician offices. So, the question is what can we do to improve EHRs in order to reduce frustration and physician burnout?
In February, MedStar Health's National Center for Human Factors in Healthcare and the AMA launched a new campaign that will push for changes to address the known risks to patient safety and clinician burnout stemming from poor EHR usability. The campaign's
website provi
des videos from the clinician's point of view demonstrating the risks and challenges caused by poor EHR usability.
UPMC — a longtime trailblazer in EHR implementation and advanced predictive analytics — is partnering with Microsoft in a joint venture called Healthcare NeXT. Part of the collaboration, Project Empower MD, involves developing an artificial intelligence scribe. The application analyzes a doctor's conversation with a patient and then makes suggestions in the patient's EHR.
"Ideally, a doctor using the scribe could devote their full attention to a patient during an exam," tech journalist Clare McGr
ane writes in
GeekWire. "Then he or she could turn to the electronic health record and accept suggestions the scribe makes, like a diagnosis or notes for future treatment."
UPMC and Microsoft may be onto something. Having an Alexa-like system to record and translate conversations, provided that privacy is protected, could save hours of physician and nurse time while improving the clinician-patient interaction — and, quite possibly, reduce physician burnout.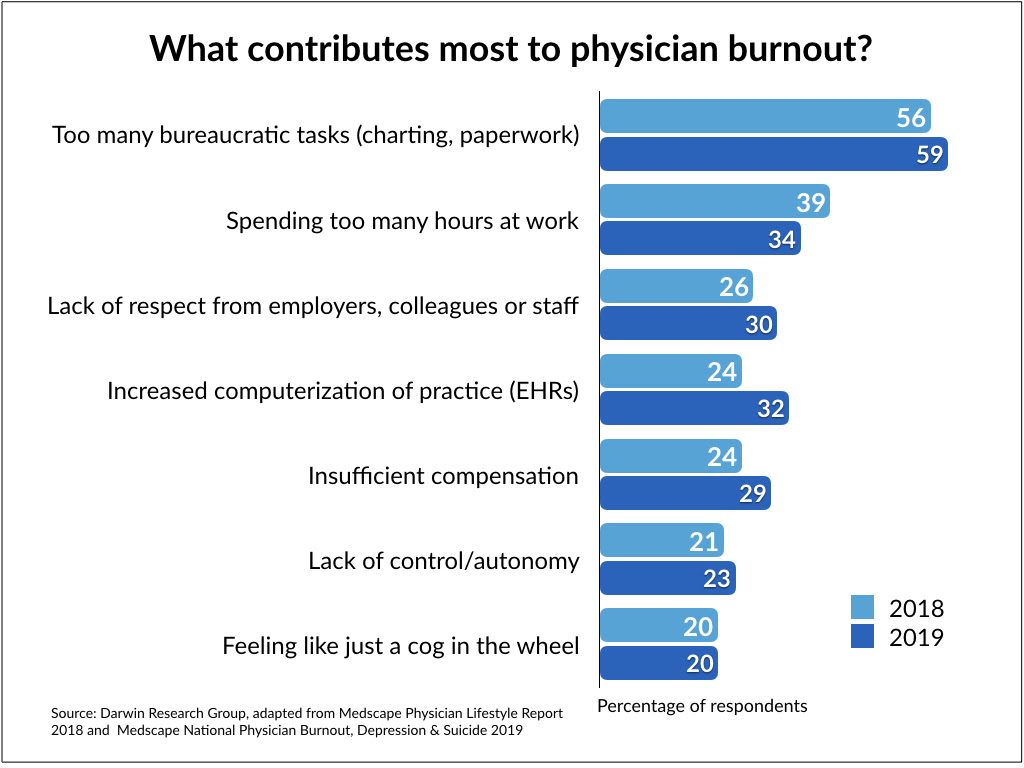 What else you need to know
Bon Secours Mercy Health signed a letter of intent to acquire
Dublin-based Bon Secours Health System. Completion of the merger is expected in late summer, pending further due diligence and receiving necessary approvals. "By sharing best practices and expertise, we will work together to navigate the many complexities of health care both locally and internationally, and better understand different care delivery models," said John Starcher Jr., CEO of Bon Secours Mercy Health, in a press statement. "This will position us well to deliver exceptional care to our patients both today and in the future." Bon Secours Health System is the largest private health care system in Ireland, treating more than 280,000 patients annually in five acute care hospitals.
The ACA had its day in the conservative-leaning Fifth Circuit Court
of Appeals Wednesday, where the Department of Justice (DOJ) filed a brief arguing that the law is unconstitutional. In the brief, the DOJ said it agrees with a district judge's ruling that the ACA should be invalided now that Congress has eliminated the individual mandate penalty. The original suit was brought forth by Republican officials in 20 states in the U.S. District Court for the Northern District of Texas. "Allowing some of the reforms to go into effect without others with which they are inextricably linked would not be giving effect to the statute but rewriting it, which is the prerogative of Congress rather than the courts," wrote Assistant Attorney General Joseph Hunt.
A second subscription-based payment model for hepatitis C (HCV)
medication was unveiled when the Washington State Health Care Authority announced that it has selected AbbVie as its sole supplier. The state health authority said in a press release that AbbVie was chosen "because they provided the best overall portfolio" to help the state eliminate hepatitis C. "Last year, I committed Washington to a first-in-the-nation approach to eliminate hepatitis C in our state in the next 10 years," said Gov. Jay Inslee. "This is a great step in helping us achieve that goal." Approximately 65,000 residents of Washington state live with chronic HCV; about half are covered by state health insurance.
Yale New Haven Hospital announced plans to develop
an $838 million neuroscience center that will include two new patient facilities. The planned 505,000-square-foot center will have 204 inpatient beds. "We firmly believe that this new facility will change the landscape of health care and draw patients from throughout the region and nation," said Marna Borgstrom, CEO of Yale New Haven Health and Yale New Haven Hospital. The project will be the largest of its kind in state history, the hospital noted in a press release.
The American Hospital Association sent a letter to the DOJ
requesting a probe into Centene's proposed $17 billion acquisition of WellCare, citing antitrust concerns. The combined insurer would have a presence in all 50 states, covering 22 million lives and generating $97 billion in revenue. In the letter, the association asked the DOJ to thoroughly investigate the transaction "because it threatens to reduce competition in delivery of Medicaid Managed Care and Medicare Advantage services to tens of millions of consumers across broad swaths of the country."
What we're reading
Contact Darwin Research Group and we will get right back to you.