Our Take: Memorial Sloan Kettering: Profits over people?
Apr 08, 2019
A new report by The New York Times and ProPublica says leadership at Memorial Sloan Kettering Cancer Center (MSK) "repeatedly violated policies on financial conflicts of interest," resulting in an environment in which "profits appeared to take precedence over research and patient care."
The Times/ProPublica investigation stemmed from an outside review of MSK by Debevoise & Plimpton, a New York-based law firm. Details of the review were presented last week at a staff meeting with MSK executives.
Potential conflicts of interest were often ignored or discussed ad hoc, flouting organization standards, the report indicated. In addition, researchers sometimes worked on studies in which executives had an undisclosed financial interest in the outcomes.
According to The Times and ProPublica, Mark Goodman, co-chair of the law firm's commercial litigation group, said the conflicts of interest were not a result of willful misconduct, but instead stemmed from "inadequate oversight and a lack of established protocols for examining whether employees' and executives' affiliations with corporations could result in biased results that favored a company's products."
MSK has since
revised its
policies and procedures concerning conflicts of interest, as well as the rules governing relationships and financial ties to corporations.
Dr. Walid Gellad, director of the Center for Pharmaceutical Policy and Prescribing at the University of Pittsburgh, said of the revised polices, "Memorial Sloan Kettering really does seem to be taking this seriously and this document, I think, shows it. Kudos to them."
Our Take

:
MSK's troubles started with another Times/ProPublica investigation that led to the resignation of the cancer center's chief medical officer, Dr. José Baselga, who was found to have failed to disclose millions in payments from drug and other health care companies in dozens of peer-reviewed medical journal articles. Dr. Baselga resigned in September and has since stepped down from the boards of Bristol-Myers Squibb and Varian Medical Systems.
He now heads up AstraZeneca's cancer unit as the executive vice president of research and development.
Research institutions can partner with pharma successfully if they have robust policies in place and adequate oversight to enforce them. But, there's a revolving door between academic appointments and jobs in industry, which makes keeping track of potential conflicts all the more difficult.
What's more, there's big money in cancer research — which isn't necessarily a bad thing. Cancer is everywhere. And, the money pharma is investing is essential to bringing groundbreaking therapies to market.
"There's not enough NIH budget or NCI budget to do all our research," one cancer center executive told us in a recent interview. "And more and more, the drugs are being [developed by] the pharmaceutical companies. So, the lines have grayed. We need their investment. But we also have to have enough checks and balances in place."
A recent re
port from EvaluatePharma shows that oncology is the top therapeutic area in prescription drug sales, registering $104 billion in sales in 2017, with $233 billion projected in 2024. That's a compounded annual growth rate of 12.2%.
VisualCapitalist re
ports that more drugs are used to treat cancer than any other disease or health condition, by a long shot — and that's unlikely to change anytime soon, as cancer drugs represent more than half of pharma's collective pipeline.
Next week, Health Care Rounds features Dr. David Hong, deputy chair of the Department of Investigational Cancer Therapeutics at The University of Texas MD Anderson Cancer Center. He also serves as associate vice president of clinical research at the center and as clinical medical director of the Clinical Center for Targeted Therapy. He speaks to the necessary partnership between industry and institutions like UT MD Anderson:
"What ProPublica and other venues that are trying to vet out this conflict of interest may or may not realize is that this research probably wouldn't be conducted if it weren't for pharma investing the money in order to try to get these drugs approved. Clinical trials are an incredibly expensive endeavor."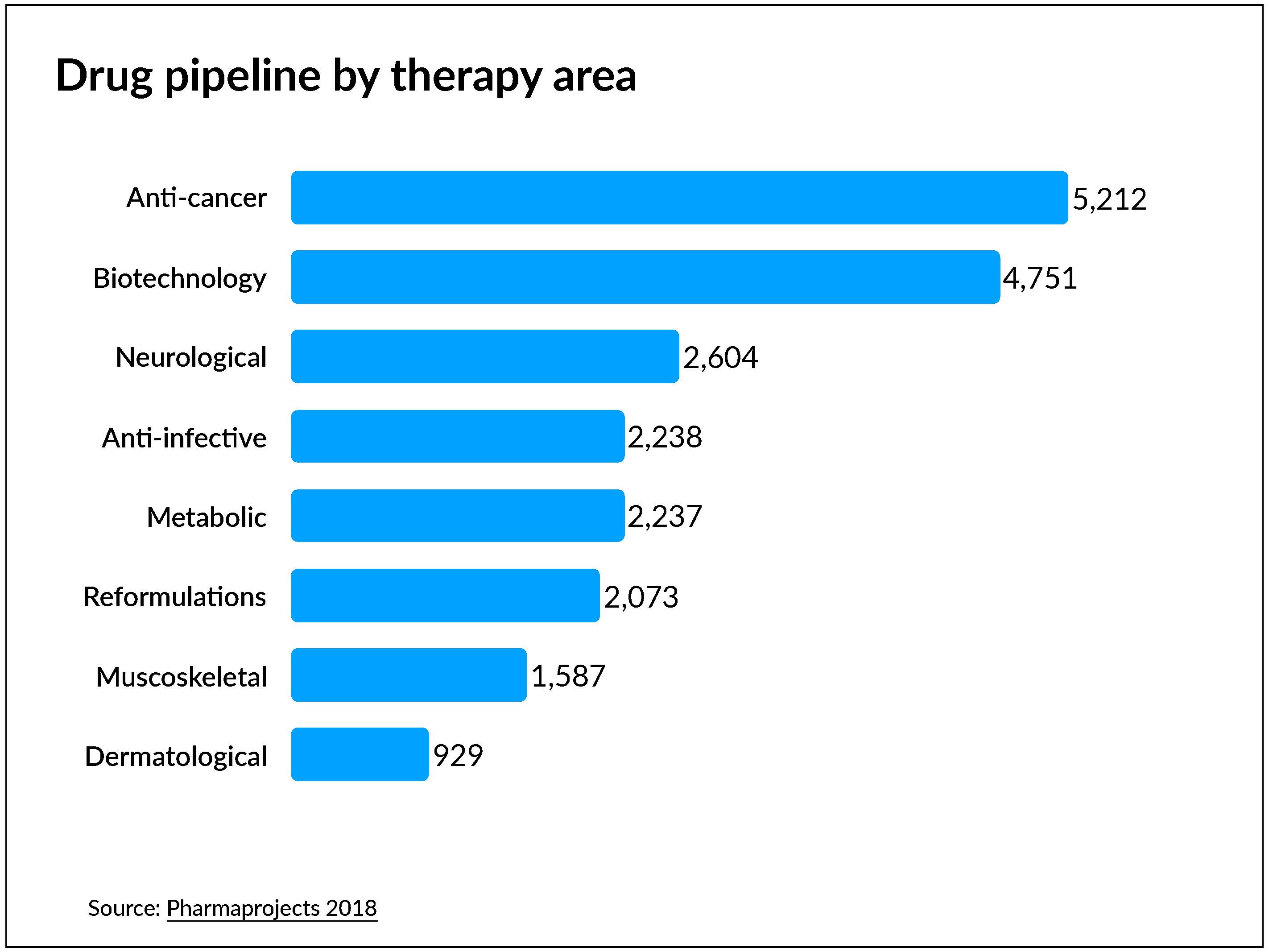 What else you need to know
AstraZeneca and Daiichi Sankyo announced a collaboration agreement
between the two companies potentially worth $6.9 billion. Their goal is to accelerate and expand the development of trastuzumab deruxtecan, an investigational antibody-drug conjugate that targets HER2. The drug is currently being developed as a treatment for multiple HER2-expressing cancers, including breast and gastric cancer, and in patients with HER2-low expression. Under the agreement, AstraZeneca will pay Daiichi Sankyo $1.35 billion up front and as much as $5.5 billion in regulatory and sales milestone payments.
Meanwhile,
Novartis entered into a definitive agreement to acquire IFM Tre
, a subsidiary of Boston-based biopharmaceutical firm IFM Therapeutics. IFM Tre is developing novel NLRP3 antagonists for the treatment of inflammatory diseases such as atherosclerosis and inflammatory bowel disease. Novartis will pay $310 million up front and possibly another $1.265 billion if designated milestones are reached. The acquisition has been approved by IFM's board of directors and shareholders; it's subject to customary closing conditions.
Cigna and Express Scripts will be launching a program to cap insulin
costs for eligible patients at $25 for a 30-day supply, Cigna
announce
Wednesday. The Patient Assurance Program will be open to members in participating employer-funded pharmacy plans managed by Express Scripts if their monthly out-of-pocket costs for insulin exceed $25. Government-sponsored plans are not eligible. Eli Lilly, Novo Nordisk and Sanofi will participate in the program, which is expected to be available to Express Scripts members before year-end and to Cigna plan members in 2020, Modern Healthcare reported. Soaring insulin prices have recently come under increased government scrutiny.
CVS is now offering same-day delivery of eligible prescriptions
, the company said in a
statement
released Thursday. The service is being provided in conjunction with Shipt and is available at 6,000 CVS Pharmacy locations nationwide. Other items from CVS stores can be added to the delivery orders. There's a $7.99 delivery service fee for same-day delivery, and a 1- to 2-day delivery service is available for a fee of $4.99.
Duke University Health System and BCBS North Carolina
have formed a new nonprofit health insurance company called Experience Health. According to a
press release,
Experience Health has filed an application with CMS to offer a Medicare Advantage plan in certain North Carolina counties in 2020. Mark Waggoner, who was a senior executive at Blue Cross Blue Shield of Rhode Island, is CEO of the new insurance company.
Health Quest and Western Connecticut Health Network (WCHN)
have merged to form Nuvance Health, a not-for-profit health system with estimated annual revenue of $2.4 billion, the organizations
announced
Wednesday. Dr. John Murphy, who was president and CEO of Danbury, Conn.-based WCHN, is Nuvance Health's CEO. Robert Friedberg, previously president and CEO of New York-based Health Quest, is president of the new health system, which includes seven hospitals, more than 2,600 physicians and 12,000 employees. Nuvance Health will serve approximately 1.5 million residents of Connecticut and New York.
Contact Darwin Research Group and we will get right back to you.