Our Take: Commercial ACOs top 3,000 agreements, 30 million members
Aug 19, 2019
Previously, we've frequently written about the Medicare ACO marketplace, and every year we've provided our readers with a top-line summary of our annual ACO Executive Survey. But while our researchers have spent many hours tracking commercial ACO contracts, we haven't summarized what we've learned here.
The term "accountable care organization" was first coined by Dartmouth researcher Dr. Elliott Fisher in 2005 at a MedPAC meeting (although there are questions about whether he should share in the credit). ACOs, he said, were "groups of doctors, hospitals, and other health care providers, who come together voluntarily to give coordinated, high-quality care."
Dr. Fisher and former Medicare and FDA chief Dr. Mark McClellan, along with MIT economist Jonathan Gruber, were highly influential in shaping health care reform and included ACOs as a key piece of the Affordable Care Act (ACA).
The ACO concept has its roots in the Medicare Physician Group Practice demonstration, which ran from 2005 to 2010. Dartmouth-Hitchcock Medical Center was a participant in the demonstration and later became one of 32 Pioneer ACOs.
But the truth is, the ACO concept, broadly defined as having rewards for quality and shared savings for cost containment, was being developed in the commercial sector during the same time period. Blue Cross Blue Shield of Massachusetts developed the Alternative Quality Contract in 2008, which was subsequently picked up by other Blues licensees. Cigna's Collaborative Accountable Care program started back in 2008.
Commercial ACO products grew in popularity as the Medicare Pioneer and Shared Savings programs received a lot of early press. Employers became receptive, even demanding, that payers offer a similar scheme where, if not shared savings, employees would enjoy lower copays, care coordination, and free annual wellness visits.
Unlike with the Medicare ACO programs — which have clearly stated quality measures and well-defined shared savings parameters — comparing commercial ACO offerings is a challenge. For example, for some payers the term ACO has evolved to mean "value-based care," which can encompass bundled payment programs and other alternative payment models. Also, each payer has a slightly different approach to how they incentivize physicians and rein in costs.
Recognizing these differences, here's what we know about the largest commercial programs today. Most of these data were obtained from the companies themselves, either through press releases, fact sheets, or 10-Ks.
UnitedHealthcare.
As the nation's largest private health insurer, UHC also has the most lives managed in value-based arrangements. UHC has 1,000 ACO relationships covering 15 million people in 50 states. Its national NexusACO has 250,000 members in 2019. The company says that it has agreements in 1,100 hospitals and with 110,000 physicians. UHC made $64 billion in value-based payments in 2017 — 49% of total medical costs paid — and is expected to have $75 billion by the end of 2020.
In its employer-sponsored and individual networks, UHC says that compared with non-ACOs, ACOs have 17% fewer hospital admissions, 14% fewer ER admissions, and 12% better financial results, and they are better on 87% of the top quality measures.
Aetna.
The latest data available were just prior to Aetna's merger with CVS. At the time, Aetna said it had 1,000 value-based agreements, of which 500 were ACOs. Aetna had 3.2 million members in value-based arrangements, or about 40% of insured lives. It marketed its ACO product under the "Aetna Whole Health" brand through the Accountable Care Solutions unit; it is unclear if it will retain the naming scheme as CVS Aetna. In 2017, 28% of payments were value-based; Aetna projected that 75% of payments would be value-based by 2020.
Aetna touts the performance of the Aetna-Banner ACO, which led to an Aetna-Banner health insurance joint venture. Over five years, the ACO had a 24% decrease in avoidable surgery admissions, a 4% increase in generic prescribing, and an 11.5% overall reduction in medical costs.
Humana.
Louisville, Ky.-based Humana says it has 900 ACO relationships in 43 states and Puerto Rico. About 57% of members are in value-based arrangements — about 2 million Medicare Advantage and 115,000 commercial members. Humana has bundled payment programs for total joint replacement, maternity care, and spinal fusion. In 2017, the company said its value-based agreements led to 15% lower costs, 20% higher HEDIS scores, 5% fewer inpatient admits, and 7% fewer ED visits.
Humana's Primary Care Value-Based Continuum has provider agreements that range from an annual bonus for meeting quality metrics to full capitation in its Medicare Advantage programs (see below).
Cigna.
Today, Cigna has 230 primary care-based Collaborative Accountable Care arrangements in 32 states, for 2.65 million commercial members. It has value-based relationships with 81,000 primary care physicians and 63,000 specialists. Cigna's specialty Collaborative Accountable Care program has arrangements with medical practices specializing in cardiology, gastroenterology, obstetrics-gynecology, oncology, and orthopedics. Care coordinators are at the heart of Cigna's program, which sometimes means embedding a Cigna employee in physician practices.
Cigna says its Collaborative Accountable Care program has led to 10% better quality performance, a 59% lower rate of avoidable ER visits, a 28% lower hospital inpatient admission rate, a 63% lower readmission rate, and a 3% average higher use of generic medication when clinically appropriate.
Anthem.
As of 2018, Anthem had 159 ACO agreements in 14 states, with 5.5 million commercial members. Anthem has 64,000 providers in ACOs or medical homes. In 2017, value-based contracts represented 58% of Anthem's total medical spend, and over 75% is represented by shared savings agreements, shared risk arrangements, and population-based payment models.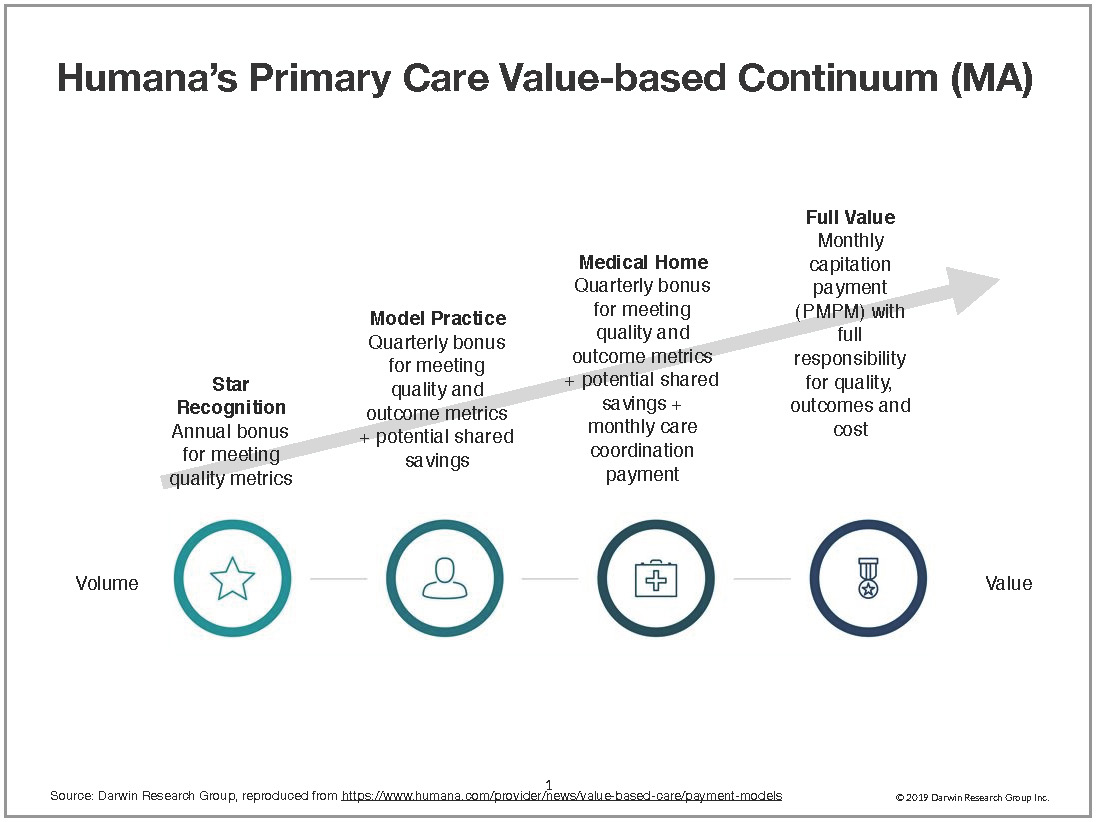 What else you need to know
Harvard Pilgrim Health Care and Tufts Health Plan h
ave signed a definitive agreement to merge. "Both organizations share the same vision tha
t a combined organization will be even more effective, better able to keep high-quality health care accessible and affordable, while at the same time investing in programs and initiatives that enhance quality," the companies said in a press release. The organizations said the new company's board will be chaired by Harvard Pilgrim Health Care Board Chair Joyce Murphy and will have equal representation from each company's board. Tufts Health Plan CEO Tom Croswell will be the new company's CEO; Michael Carson, CEO of Harvard Pilgrim Health Care, will serve as president. The new organization will serve 2.4 million members in Massachusetts, Maine, Connecticut, New Hampshire, and Rhode Island. The transaction has been approved by both boards and is subject to customary regulatory approvals.
Humana filed a lawsuit against Mallinckrodt plc, alleging the drug manufacturer conducted "one of the most outrageous price-gouging schemes in the history of American medicine." The lawsuit centers on Mallinckrodt's Acthar Gel, which received FDA approval in 1952 and is used to treat a wide range of ailments. According to the suit, in 2001, a vial of Acthar Gel cost $40. By 2018, the price per vial was more than $39,000 — a 97,500% price increase. "It is as if the price of milk increased from $3 to over $2,900 per gallon, or a mortgage payment rose from $2,000 to over $2 million per month," the plaintiffs wrote. "This conduct consists of a complex, multipart scheme involving monopoly, bribery, racketeering, fraud, and other deceptive and unfair practices that have imposed exorbitant and pointless costs on those financially responsible for the costs of the drug, including not just patients but also health and Medicare insurers like Humana, the plaintiff here."
The FDA approved Pretomanid Tablets,
in combination with bedaquiline and linezolid, for the treatment of a specific type of highly treatment-resistant tuberculosis (TB) of the lungs. Citing data from the World Health Organization, the FDA said there were an estimated 490,000 new cases of multidrug-resistant TB worldwide in 2016. "The threat of antimicrobial-resistant infections is a key challenge we face as a public health agency," said Dr. Amy Abernethy, the FDA's principal deputy commissioner. "New treatments are important to meet patient national and global health needs." Pretomanid was developed and clinically evaluated by TB Alliance, a not-for-profit p
roduct development partnership dedicated to the discovery and development of new, faster-acting, and affordable medicines for tuberculosis.
Centene announced that it is expanding its offerings on the 2020 Health Insurance Marketplace exchanges, with the addition of plans in 10 states: Arizona, Florida, Georgia, Kansas, North Carolina, Ohio, South Carolina, Tennessee, Texas, and Washin
gton. The company said it currently serves 1.9 million exchange members in 20 states. "Centene takes pride in being the country's largest provider of health insurance marketplace plans," said Michael Neidorff, Centene's chairman, president, and CEO. "The need for affordable, high-quality health care has never been more urgent, and we will continue to demonstrate disciplined execution, agility, and capacity to successfully navigate industry changes to the benefit of our members, customers, and shareholders." More than 90% of Centene exchange enrollees are eligible for subsidies, the company said.
Contact Darwin Research Group and we will get right back to you.