Our Take: As delta becomes dominant strain, U.S. COVID-19 cases increase nearly 11% in one week
Jul 12, 2021
According to the Centers for Disease Control and Prevention (CDC), the highly contagious delta variant, first detected in India, now accounts for more than half of the COVID-19 cases in this country. In some parts of the U.S., the variant could account for approximately 80% of cases, Dr. Director Rochelle Walensky, director of the CDC, said last week in a press briefing.
Data also shows that COVID-19 cases nationwide are on the rise for the first time in several months. Numbers provided by the CDC last Wednesday reflected a 10.8% increase in the seven-day average of daily cases, compared with the week before.
Much of the increase is attributed to the delta variant, which is believed to be up to 60% more transmissible than the original strain of the coronavirus. Moreover, a study published last month in The Lancet suggests that unvaccinated individuals who become infected with the delta variant are twice as likely to be hospitalized as those infected with the alpha variant that was first identified in the U.K.
At Houston Methodist, the delta variant was responsible for more than 40% of new COVID-19 hospitalizations as of last Thursday. A week earlier, the delta variant was responsible for just 20% of Houston Methodist's new hospitalizations.
Driving the overall nationwide increase in cases and hospitalizations are sharp upticks in areas that have low rates of vaccination against the disease — particularly pockets in the South, Midwest, and West.
In Missouri, for example, the daily average number of new cases (18 per 100,000) increased 44% in the most recent two-week period tracked by The New York Times, compared with the previous two-week period. The daily average number of hospitalizations (16 per 100,000) increased 25%. (Data used in tracking the case and hospitalization counts was obtained from public health agencies.) Just 40% of the state's residents are fully vaccinated. These numbers only tell part of the story, though. A closer look shows a much direr situation.
The Kansas City Star reported on Wednesday that Joplin, Mo., had a COVID-19 case rate of 352 per 100,000 residents, earning the city the fourth spot on the list of highest infection rates in the country.
The rate of new cases in Greene County, in the southwestern part of Missouri, was 259 per 100,000 residents. Only 33.8% of the county's residents had been fully vaccinated.
Mercy Hospital Springfield is in Greene County. On July 4, the hospital had 116 patients with COVID-19 and had run out of ventilators.
Steve Edwards, CEO of Springfield, Mo.-based CoxHealth, said on Wednesday that 12 patients there had died of COVID-19 in the past eight days. On Thursday, he posted on Twitter that there had been two more deaths. He said the delta variant was driving the increase, "fueled by unvaccinated kindling."
Mercy is among the many hospitals and health systems throughout the country that have instituted vaccination mandates for their employees. The hospital associations in Connecticut, Maryland, and Washington, D.C., said hospitals and health systems in their respective geographic areas have signed consensus statements to mandate vaccines for their workers.
As of Friday, Missouri was one of 19 states where COVID-19 hospitalizations were increasing, according to data tracked by The New York Times. Several states have had much sharper increases in hospitalizations than Missouri, including Arkansas (42%), Nevada (65%), Utah (35%), Mississippi (34%), and Iowa (40%).
According to the Times, more than half of all states had increasing rates of new cases in the most recent two-week period compared with the previous two weeks, with six states having an increase of more than 100%: Tennessee (169%), South Carolina (122%), Kansas (116%), Nebraska (111%), Arkansas (110%), and Louisiana (109%). In six of the top eight states with increased case rates, the percentage of fully vaccinated residents was less than 40%, and all eight states were below the national percentage. As of Friday, 48% of U.S. adults had been fully vaccinated and 55% of the overall population had received at least one dose.
The data shows that the overwhelming majority of COVID-19 deaths, including those attributed to the delta variant, have been in unvaccinated people. The FDA-authorized vaccines appear to protect against serious illness, as well, even in cases where the individual has been infected with the delta variant. Researchers have found that, with the two-dose vaccines (Pfizer/BioNTech and Moderna), the level of protection against the delta variant is significantly greater after the second dose than after the first dose.
To address vaccine hesitancy among the remaining 40-plus percent of the population, the Biden administration is shifting tactics, moving away from mass-vaccination sites and instead focusing on getting people vaccinated where they live, work, or worship — implementing mobile vaccine clinics at public venues and events, as well as door-to-door outreach.
The administration has also launched surge response teams to help curb the spread of the delta variant in approximately 1,000 counties across the U.S. that are deemed hot spots. The teams are staffed by the CDC, the Department of Health and Human Services (HHS), and the Federal Emergency Management Agency; they are conducting testing, distributing medicine, and assisting with local efforts to increase vaccinations.
On Friday, Pfizer and BioNTech said in a press statement that they believe a third dose of their vaccine may be needed within six to 12 months after full vaccination to maintain the highest levels of protection, including protection against the variants, and they intend submit findings from their "booster trial" to the FDA "in the coming weeks." For the time being, the CDC has said that fully vaccinated people do not need a booster to protect them from the delta variant.
Our Take: We look around and see most people behaving as though the pandemic is over, but as the saying goes, wishing don't make it so.
Recent findings from Britain should be used to inform the next steps we take here. Even though more than 86% of adults there have received one dose of an authorized vaccine and more than 64% were fully vaccinated, the number of new COVID-19 cases reported there last Tuesday was the highest since late January.
Those findings and other research suggests that even fully vaccinated individuals can spread the delta variant if they become infected with it, even if they are asymptomatic — which many are/will be. Others will only have cold-like symptoms and not realize they've been infected. As with any form of the virus, wearing a mask would reduce the likelihood of spreading the delta variant, but not many vaccinated people are wearing masks. Increased testing would help, too, but that may be even less likely than a widespread return to wearing masks.
Ignoring the delta variant and others that will follow won't make them go away. With such a large percentage of the population unvaccinated, both here and worldwide, the virus will have ample opportunity to continue evolving. Already, a study published recently in the journal Science indicates that mutations in the epsilon variant, which was first identified in California, may allow it to evade the antibodies produced by the vaccines and earlier infections.
Although only relatively small areas throughout the country may currently be seeing substantial increases in hospitalizations and deaths, public health officials believe those surges will be more pronounced later in the year, when kids return to school and people are spending more time inside.
We probably lost the opportunity to eradicate this coronavirus long before the vaccines became available. Given the large percentage of people who won't get vaccinated, we may have also missed the window for keeping it in check that way.
But there's still a chance to mitigate the potential damage that emerging and future variants could do. Are we going to blow that, too? Based on what we're seeing, the answer to that question, clearly, is yes.
Two final points. We started constructing the attached table on Friday, as this story was being written, but got sidetracked by other things. By Sunday morning, the numbers had changed for the worse — in some cases dramatically. We fear that COVID fatigue set in long ago and that the major news outlets aren't giving this alarming trend enough coverage. It's probably not making the rounds on Facebook news feeds either.
We were curious about the actual correlation between vaccinations, case rates, and deaths. Using the CovidActNow dataset, we accessed their county file and ran a simple correlation analysis. Vaccination rates were inversely correlated with per-capita cases (-0.238), per-capita deaths (-0.234), and positive test cases (-0.345). Not as strong as a relationship as we thought it would be, but the association is clearly there.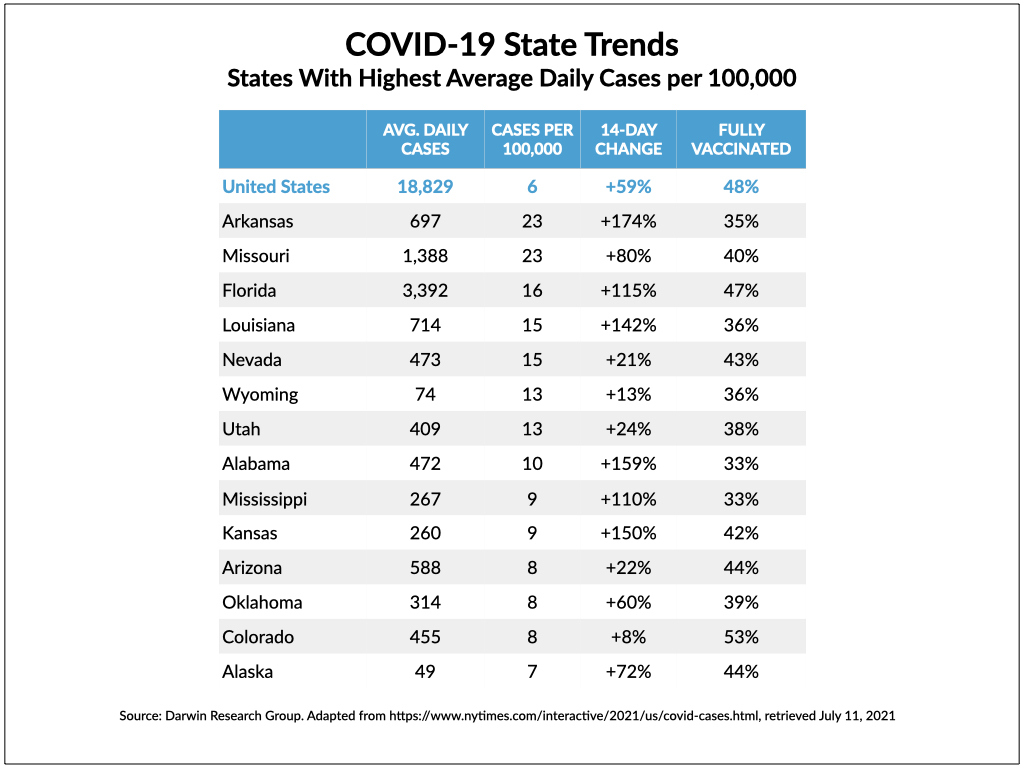 What else you need to know 
Walmart is partnering with Novo Nordisk on a private-label insulin analog called ReliOn NovoLog
(insulin aspart). The rapid-acting insulin, manufactured by Novo Nordisk and available at Walmart pharmacies (and soon to be available at Sam's Club stores), costs $72.88 per vial and $85.88 for a package of prefilled FlexPens. Walmart said in a
press announcement
that the products will save consumers up to 75% compared with the cash price for branded insulin products currently on the market. "We know many people with diabetes struggle to manage the financial burden of this condition, and we are focused on helping by providing affordable solutions," said Dr. Cheryl Pegus, executive vice president of Walmart Health & Fitness.
At $14.7 billion, digital health funding in the first six months of 2021 has already edged past last year's record-breaking total of $14.6 billion — and that total was nearly twice the total amount of funding in 2019, according to a Rock Health report. "Seismic shifts from the COVID-19 pandemic launched digital health into high gear, and the momentum has only accelerated," the authors wrote. So far this year there have been 372 funding deals in the digital health sector, with an average size of $39.6 million. Among them, 48 were valued at $100 million or more and accounted for 59% of digital health funding thus far in 2021. Public exit activity, which includes initial public offerings and special-purchase acquisition company (SPAC) transactions, has "ballooned" this year, the report noted, with 11 such transactions already completed in the first half and another 11 anticipated to close before the end of the year.
Akumin, a Plantation, Fl.-based firm that owns/operates a network of 137 outpatient imaging centers in eight states, will acquire a majority stake in Irvine, Calif.-based Alliance Healthcare Services, which provides outsourced advanced radiology and radiation therapy services through its affiliations with more than 1,000 hospitals, health systems, and physician practices in 45 states. Fujian, China-based Tahoe Investment Group acquired Alliance in separate transactions in 2016 and 2017 and took the company private. If Akumin's $820 million acquisition is completed — potentially in the third quarter if regulatory approval is obtained and customary closing conditions are met — the combined company will be publicly traded and Tahoe Investment Group will retain a minority ownership stake. The transaction will create "the most comprehensive radiology and oncology solutions provider in the U.S.," Akumin stated in a press release.
Baylor, Scott & White will have a new CEO on Jan. 1 of next year. Jim Hinton, who has served in the role since early 2017, will be retiring and Pete McCanna, who currently is president of the Dallas-based health system, will become CEO. Before joining Baylor, Scott & White in July 2017, McCanna served as chief operating officer at Chicago-based Northwestern Memorial Healthcare (now Northwestern Medicine). Prior to that, McCanna was chief financial officer at Presbyterian Healthcare Services in New Mexico, where he and Hinton first worked together; Hinton served as president and CEO for 21 of the 33 years he was at Presbyterian, according to the announcement of Hinton's retirement.
President Biden issued an executive order on Friday that included a range of directives aimed at promoting competition in the economy. Among them were several that address prescription drug prices and one directing HHS to support existing price transparency initiatives for hospitals, other providers, and insurers, along with any new price transparency initiatives and changes required by the No Surprises Act. The executive order also affirmed the administration's intent to enforce antitrust laws "to combat the excessive concentration of industry, the abuses of market power, and the harmful effects of monopoly and monopsony," calling out the health care industry and several others in particular. President Biden encouraged the Department of Justice and the Federal Trade Commission to review and revise their merger guidelines to ensure that consumers are not harmed by hospital mergers. This fact sheet provides additional details.
Contact Darwin Research Group and we will get right back to you.