Our Take: 2018 MSSP performance data released by CMS
Oct 07, 2019
CMS last week released 2018 performance results for its Medicare Shared Savings Program (MSSP). This week we'll review some top-line results.
In
a blog post, the
biggest news coming from CMS Administrator Seema Verma is that ACOs that took on more risk outperformed those that took on less, and physician-led ACOs outperformed those originating from an IDN. (We haven't independently confirmed this; we haven't had enough time with the dataset to say for sure, but the numbers that Verma cited are compelling.)
Specifically, ACOs that took on downside risk — i.e., Track 2, Track 3, and Track 1+ models — had an average reduction in spending relative to projected costs of $96 per beneficiary, compared with $68 for Track 1 ACOs. Physician-led ACOs had an average reduction in spending relative to projected costs of $180 per beneficiary, compared with $27 per beneficiary for hospital-led ACOs.
A glance at the list below shows that physician-led ACOs also stand out as leaders in quality. We looked at the top five performers on five common quality measures, and 85% of the ACOs were physician-led. Note that despite the improved financial performance of those ACOs taking on downside risk, 72% of the ACOs listed below are Track 1 (no downside risk).
Managing poorly controlled diabetic population: Billings Clinic, Rio Grande Valley Health Alliance, Village MD New Hampshire ACO, SERPA-ACO (Neb.), and Great Plains Care Organization (Iowa)
Controlling high blood pressure: Rio Grande Valley Health Alliance, Akira Health of Los Angeles, Coastal Carolina Quality Care, NexCentra Health Partners (N.C.), and USMD Physician Services (Texas – Optum)
Depression remission at 12 months: MHN Partners (Iowa – Mercy), Emerald Coast ACO (Fla.), Keep Well ACO (Mo.), Balance ACO (N.Y.), and Empire ACO (N.Y.)
All-cause, unplanned hospital admissions: CCACO (N.Y.), Physician Health Partners (Colo.), Paradigm ACO (Fla.), Aledade Utah ACO, Intermountain Accountable Care
Patient satisfaction (average of eight patient experience measures): Genesis Physicians Group (Texas), Think ACO (Neb.), Aledade Louisiana ACO, South Texas ACO Clinical Partners, Northern Ohio Medical Specialists
"In 2018, ACOs continued to deliver high-quality care to Medicare beneficiaries, with nearly all ACOs continuing to satisfactorily report quality measures and meet the quality performance standard," Verma wrote. Further, 93% of eligible ACOs earned improvement reward points, with the most improvement in preventive health measures, according to Verma.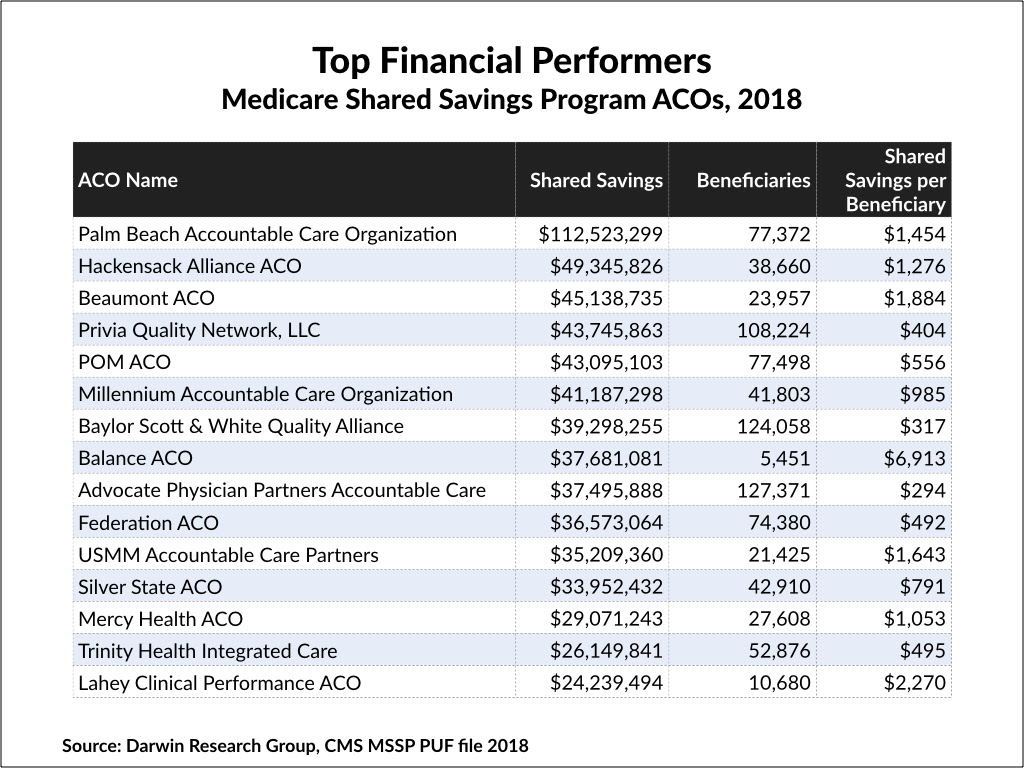 Financial Performance
In all, there was $739.4 million in total net savings — the total shared savings less the amount given back to ACOs — more than double the $314 million in net shared savings in 2017. Of note, 205 ACOs (38%) had shared savings, compared with 162 ACOs (34%) in 2017.
Palm Beach Accountable Care Organization was the best financial performer by a mile, achieving $112.5 million in shared savings and earned savings of $50.1 million. Palm Beach Accountable Care Organization also led the pack in 2017, with $63.1 million in shared savings. New York City-based Balance ACO was the runaway winner on a more standardized measure, with $6,913 in shared savings per beneficiary. Balance ACO also topped the list in 2017, with $6,676 in shared savings per beneficiary.
Beacon Health Partners was the worst performer of the group — with $45 million in shared losses — but owed Medicare nothing because of its Track One status. Of the 548 MSSP ACOs in 2018, only 11 ACOs had shared losses, returning a total of $17.6 million to CMS.
Our verdict, so far, on the 2018 data: On the whole, many ACOs continue to improve quality while showing better financial performance. More to come in a future post.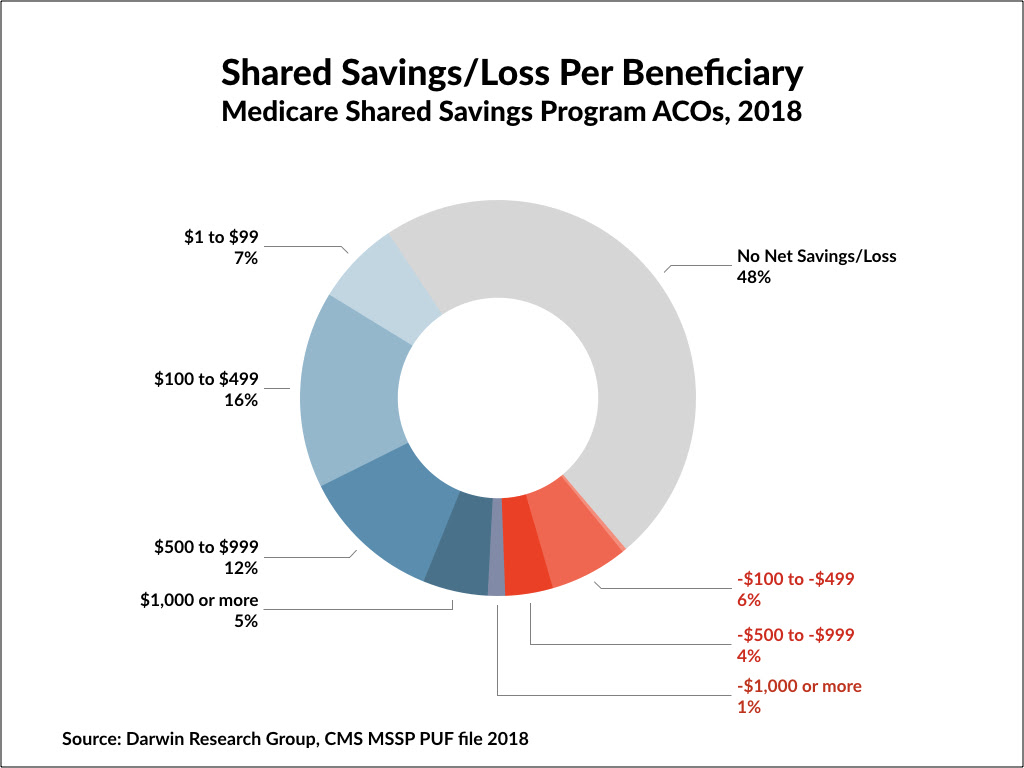 What else you need to know
Dartmouth-Hitchcock Health and GraniteOne Health
s
igned an agreement to combine the two health systems into one called Dartmouth-Hitchcock Health GraniteOne. They had signed a letter of intent in January; now, they're preparing submissions to state and federal regulatory agencies for approval to merge. If the merger is approved, all organizations within the combined system will retain their existing names and local leadership, according to a joint statement released last Wednesday, and GraniteOne's Catholic Medical Center will continue to operate under the Catholic model of care.
Walmart is testing new health benefits to help employees
receive appropriate care. One, the Featured Providers program, is being piloted in select markets to help connect employees with affordable, quality physicians in their area. Walmart is partnering with Embold Health on the program; data from public and private insurers will be used to create reports on providers in eight specialties, including primary care, and Walmart will then "curate" a list of providers that have a track record of providing consistent quality care. Other benefits noted in Walmart's

news release

were the Personal Healthcare Assistant — a concierge service designed to simplify the health care system — and expanded telehealth offerings that will include preventive health, chronic care management, urgent care, and behavioral health services.
The Institute for Clinical and Economic Review, better known as ICER, 
pulled a draft evidence report it released in late September on three new rheumatoid arthritis drugs. The drugs all belong to a new class called Janus kinase (JAK) inhibitors: AbbVie's successor to Humira (adalimumab), Rinvoq (upadacitinib), Pfizer's Xeljanz (tofacitinib), and Eli Lilly and Incyte's Olumiant (baricitinib). Reviewers said in the report that Rinvoq and Xeljanz provide "marginal" clinical benefits and that not enough data are available on Olumiant to conduct an adequate cost-effectiveness analysis. Then, last Wednesday, ICER posted an

update

on its website stating that it had decided to re-evaluate the modeling approach used in the draft report and would be issuing a preliminary revision within several days.
UPS is set to expand its drone delivery service to hospital campuses
nationwide. The company announced Tuesday that its Flight Forward subsidiary received the first-ever full Part 135 Standard certification from the Federal Aviation Administration to operate a drone airline. That certification places no limits on the size or scope of operations, UPS noted. Flight Forward has been making non-commercial drone deliveries as part of a pilot program launched in July at WakeMed Health's hospital campus in Raleigh, N.C., but under a considerably more restrictive certification. Meanwhile, Walgreens is partnering with Alphabet subsidiary Wing to test an on-demand drone delivery service to deliver food, over-the-counter drugs, and other health and wellness products (but not prescription medications), initially to customers in Christiansburg, Va.
Civica Rx's first drug has been administered to patients.
The nonprofit generic drug company was founded a year ago by Intermountain Healthcare and half a dozen other prominent health systems to address drug shortages and high prices. On Wednesday, the company announced that patients at Riverton Hospital in Utah had been treated with Civica Rx's vancomycin, an antibiotic that has been in short supply at thousands of U.S. hospitals, Civica Rx noted. The vancomycin, which is supplied through a partnership with Xellia Pharmaceuticals, should be available to all health systems later this month, Civica Rx said. Daptomycin, another antibiotic, will be the next drug Civica Rx delivers, followed by as many as 15 others.
Dr. Patrick Conway has stepped down as CEO
o
f Blue Cross Blue Shield of North Carolina after recent news of his arrest in June for driving while impaired and a related charge. Gerald Petkau, who is the company's chief operating officer, has been named interim CEO. Consequent to the change in leadership, Cambia Health Solutions issued a short statement that said the two companies have withdrawn their applications for regulatory approval for a strategic affiliation they'd announced in March. Dr. Conway had been tapped to lead the combined entity.
The White House issued an executive order Thursday
directing the Department of Health and Human Services to come up with proposals to improve Medicare, with a focus on expanding plan options, improving the enrollment process, giving beneficiaries in Medicare Advantage plans better access to providers, and streamlining regulatory requirements so that providers can spend more time with patients.
What we're reading
Contact Darwin Research Group and we will get right back to you.